'Clark Kenting' the "Twist" Costume Changes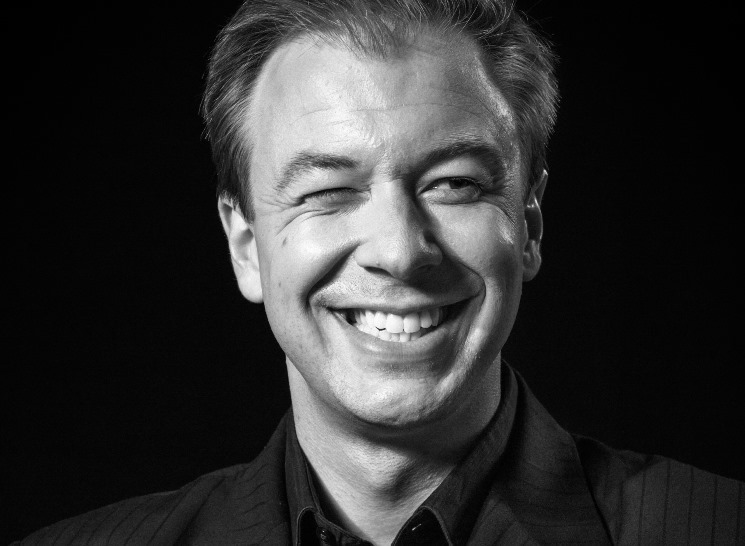 Local improv hero Nicholas Kessler plays Bob Cratchit and the Ghost of Christmas Future in Twist Your Dickens, along with plenty of other zany characters. In the interview below, he shares some highlights from his time in the show.
What is your favorite moment in Twist Your Dickens and why?
Listening to Jaime Moyer improvise "Holiday Classic" songs off audience suggestions. Not only is it an exceptionally tricky skill, and Jaime is a master, but also hearing Jaime contain her reaction to whatever wild suggestion just got picked is priceless. We're all standing still backstage and just listening during that scene.
Describe your craziest costume change:
Craziest?
My fastest change happens right after the opening song, switching from Barbershop Quartet to Bob Cratchit. As soon as the lights go dark on the opening number, I run in the dark, past a curtain and around a door, right into the person helping me change, Julio. We have about 7 seconds before my entrance.
With my right hand I take off my hat, left hand takes off my Skeletor mask, both hands drop to my collar to rip through the velcro tab in the back, I grab the top of my vest and Clark Kent through the velcro front.
After I shake the vest down my arms, I just keep my hands down because Julio slides my next vest right up my elbows. I shrug my new vest up while I reach down to grab Cratchit's fingerless leather gloves, which have been laid palm up which is the fastest way for me to grab them.
Gloves on, I shoot my hands back down into the sleeves of Cratchit's topcoat which Julio slides up my arms, and puts my scarf around my neck in one motion. I suck in my stomach so I can cinch my vest, I look down for a second to seal the velcro down the front of Cratchit's vest. When I look up, I'm staring right at the door to Scrooge's office. Julio drops my top hat on my head, I put my right hand on the door, start humming a Christmas song, and bust through the door as Cratchit.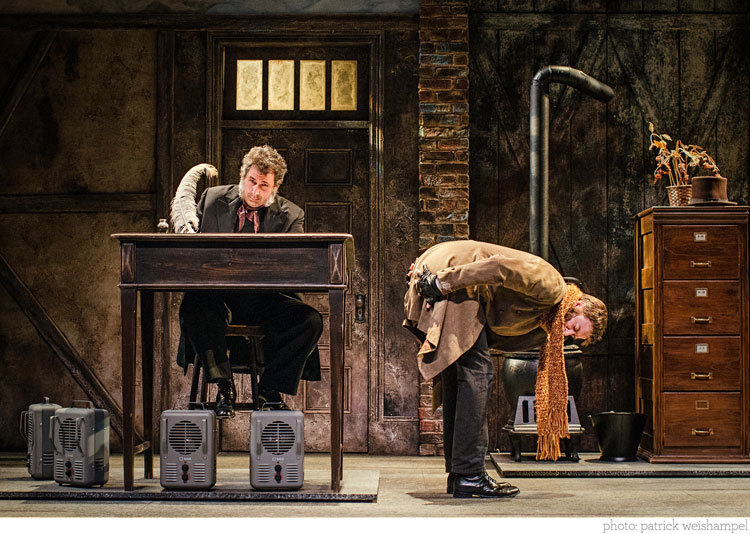 My most complicated change is going into the Ghost of Christmas Future. I'm really wearing three costumes, one on top of the other - Cratchit as the base layer, Bill's huge over-alls and bandana, and finally the immense black robe with the over-sized foam headpiece and, skeleton opera gloves and four-inch platform boots. The hood blocks all of my peripheral vision, and with the boots, Ghost of Christmas Future is over 7 ft tall. The costume is so complicated, and the scene is so technically challenging, my adrenaline is through the roof right before I step onstage.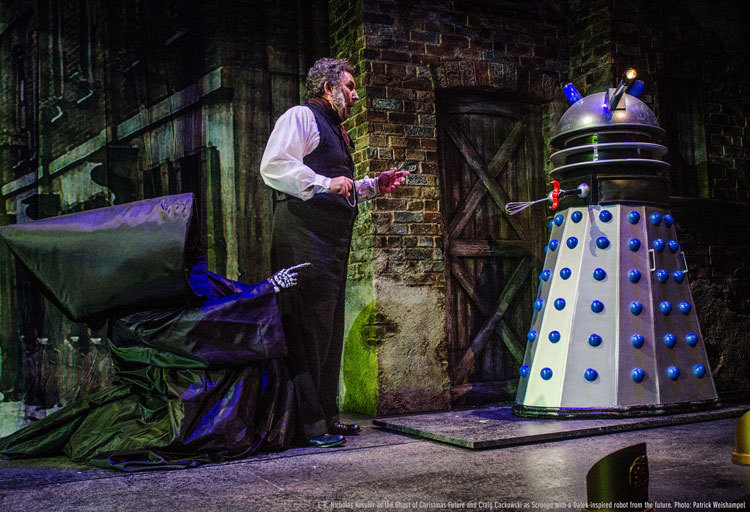 What is your favorite character in the show (played by you or someone else)?
Insane Beggar Woman destroys me every time. I'm waiting upstage of the curtain with Craig/Scrooge, and the evolution of Insane Beggar Woman has been a backstage pleasure.
Anything you'd like to share with people thinking about coming to the show?
This year's show is bigger and bolder than the last two years. Of course the show changes with every performance, but the new scenes added this year — huge, ridiculous, and potentially my new favorite character in the show.
Portland Center Stage is committed to identifying & interrupting instances of racism & all forms of oppression, through the principles of inclusion, diversity, equity, & accessibility (IDEA).