Indigenous Women Playwrights Series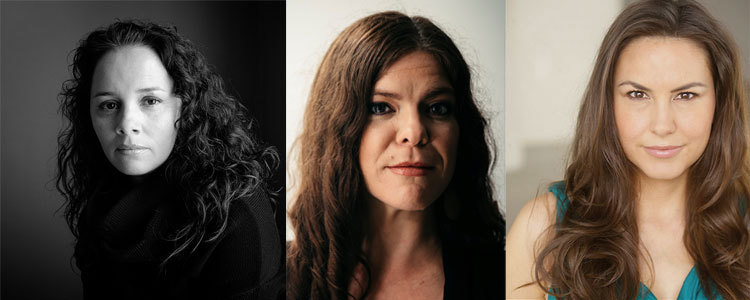 This spring, three Indigenous female playwrights will present their work on Oregon's top stages at the same time: Manahatta, by Mary Kathryn Nagle (Cherokee) is on stage at Oregon Shakespeare Festival Mar. 28 - Oct. 27; The Thanksgiving Play, by Larissa FastHorse (Sicangu Lakota) will be performed at Artists Repertory Theatre from Apr. 1 - Apr 29; and And So We Walked, written and performed by DeLanna Studi (Cherokee) is here at The Armory from Mar. 31 - May 13.
It's a groundbreaking convergence of award-winning, distinguished playwrights. The three playwrights will participate in a series of panel discussions around Portland in April:
SOCIAL JUSTICE: Telling Native stories to re-humanize Native people
MODERATED BY: Jacqueline Keeler
DATE & TIME: Monday, April 9, 2 - 4 p.m.
LOCATION: Old Church Concert Hall (1422 SW 11th Ave, 97201)
PRESENTED BY: Advance Gender Equity in the Arts
RESPONSIBILITY TO REPRESENT: What is the artists responsibility to their community and how does it inspire/empower the future generations of indigenous artists
MODERATED BY: Alyssa Macy (Confederated Tribes of Warm Springs)
DATE & TIME: Monday, April 9, 7:30 - 9:30 p.m.
LOCATION: NAYA (5135 NE Columbia Blvd, 97218)
PRESENTED BY: Artists Repertory Theatre, NAYA and Native Arts & Cultures Foundation
WOMEN ON STAGE: Women's voices are becoming a national theater movement. As we celebrate native women playwrights, and new work in general, how did we get here, and what are the challenges still ahead?
MODERATED BY: Cynthia Furhman
DATE & TIME: Tuesday, April 10, 5:30 - 6:30 p.m.
LOCATION: The Armory
PRESENTED BY: The Armory and Native Arts & Cultures Foundation
This panel is presented by KeyBank, with a welcome from President Michelle Weisenbach (www.key.com); additional support is provided by the Native Arts and Cultures Foundation.
Use the code "NACF" for $10 off tickets to And So We Walked.
Promotional code valid on seating areas 1-3 only. Not valid on previously purchased tickets, student tickets or in combination with other discounts. Subject to availability.
About Larissa FastHorse
| | |
| --- | --- |
| | Larissa FastHorse (Sicangu Lakota) is an award winning playwright, director and choreographer. Larissa's produced plays include What Would Crazy Horse Do? Urban Rez (Cornerstone Theater Company, ASU Gammage, NEFA National tour 2019-20), Landless and Cow Pie Bingo (AlterTheater), Average Family (Children's Theater Company of Minneapolis), Teaching Disco Squaredancing to Our Elders: A Class Presentation (Native Voices at the Autry), Vanishing Point (Eagle Project) and Cherokee Family Reunion (Mountainside Theater). Her new comedy, The Thanksgiving Play, will be produced at Artists Repertory Theatre and Capital Stage this season. Larissa directed the critically acclaimed play, Our Voices Will Be Heard (Perseverance Theater Company) and is developing several new projects to direct with an emphasis on cross cultural community engaged work between Indigenous nations. Larissa won the PEN USA Literary Award for Drama, NEA Distinguished New Play Grant, Joe Dowling Annaghmakerrig Fellowship, AATE Distinguished Play Award, Inge Residency, Sundance/Ford Foundation Fellowship, Aurand Harris Fellowship, the UCLA Native American Woman of the Year and numerous Ford, Mellon and NEA Grants. She is a proud officer of the Board of Directors for TCG and represented by Jonathan Mills, Paradigm NY. hogenhorsestudio.com |
About Mary Kathryn Nagle
| | |
| --- | --- |
| | Mary Kathryn Nagle was born in Oklahoma City, Oklahoma, and is a citizen of the Cherokee Nation of Oklahoma. She graduated summa cum laude from Tulane Law School where she was the recipient of the Judge John Minor Wisdom Award. She is a partner at Pipestem Law P.C., a firm specializing in the restoration of tribal sovereignty and safety for Native women. Her play Manahatta will be produced in Oregon Shakespeare Festival's 2018 season, and her play Sovereignty will be produced in Arena Stage's 2017-2018 Season. Other recent productions include AMERINDA's presentation of Miss Lead at 59e59 from January 13-26, 2014 and Native Voices at the Autry's production of Fairly Traceable in March 2017. Nagle is an alum of the 2013 Emerging Writers Group at the Public Theater, and an alum of the Civilians 2014 Research & Development Group. Nagle is the Executive Director of the Yale Indigenous Performing Arts Program, a program designed to develop Native voices in the American theater and ensure that Native plays reach the American stage. |
About DeLanna Studi
| | |
| --- | --- |
| | Originally from Liberty, Oklahoma, DeLanna Studi is a proud citizen of the Cherokee Nation. As an actor, her theater credits include Off-Broadway's Informed Consentat the Duke Theater on 42nd Street, productions at major regional theaters such as Oregon Shakespeare Festival, Portland Center Stage at The Armory (Astoria: Part One and Two), Cornerstone and Indiana Repertory Theater, the First National Broadway Tour of the Tony Award and Pulitzer Prize-winning play August: Osage County, and work at numerous community settings across Indian Country. DeLanna has originated roles in over seventeen world premieres including fourteen Native productions written about and by Natives. Her television roles in the Hallmark/ABC mini-series Dreamkeeper and Chris Eyre's Edge of America have won her numerous awards. She has been an ensemble member of America's only Equity Native American Theater Company, Native Voices at the Autry, for over 15 years. She has served her community for over eight years as the chair of SAG-AFTRA's National Native Committee, where under her leadership they have produced an award-winning industrial film about American Indians in the entertainment industry and have created a "Business of Acting" workshop that tours Indian Country. DeLanna was the 2016 Butcher Scholar Award from The Autry Museum of the American West. She has been a mentor for the Mentor Artist Playwright Program, Young Native Playwrights and the American Indian Film Institute's Tribal Touring Program. She has been an artist-in-residence at the University of North Carolina, Chapel Hill, and the University of Wisconsin, where she co-taught Native American Oral Histories and Storytelling and American Indian in Film at the University of Wisconsin, Green Bay. Her most recent project, And So We Walked, is a frank, heartwarming and inspiring story about a contemporary Cherokee woman and her father who embark on an incredible 900-mile journey along the Trail of Tears to truly understand her own identity and the conflicts of her nation. |
Attend this event for 250 points on PlayMaker! Look for a loyalty code to enter on PlayMaker to redeem your points. Sign up or sign in at pcsplaymaker.org
---
Presented with support from:

Diana Gerding
Siletz Tribal Charitable Contribution Fund
Spirit Mountain Community Fund
Honoring Native Lands
We at The Armory humbly acknowledge that the Portland metropolitan area rests on the traditional village sites of the Multnomah, Wasco, Cowlitz, Kathlamet, Clackamas, Bands of Chinook, Tualatin Kalapuya, Molalla and many other Tribes who made their homes along the Columbia (Wimahl) and Willamette (Whilamut) rivers. Today, Portland's diverse and vibrant Native communities are 70,000 strong, descended from more than 380 tribes, both local and distant. We take this opportunity to offer respectful recognition to the Native communities in our region today, and to those who have stewarded this land throughout the generations.
Portland Center Stage is committed to identifying & interrupting instances of racism & all forms of oppression, through the principles of inclusion, diversity, equity, & accessibility (IDEA).