Little Shop of Horrors Resource Guide for Educators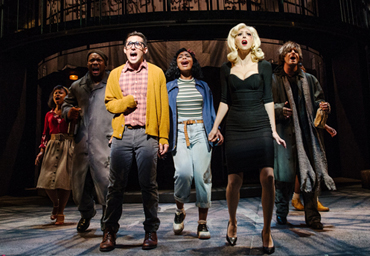 Oh, Horror! Oh, Horticulture!
Little Shop's Hysterical Lineage
by Benjamin Fainstein, Literary Manager
"A tidal wave of terror!" shouted the poster for Attack of the Crab People. "Crawling horror rising from the depths of hell!" screamed Attack of the Giant Leeches. "No girl is safe!" warned Night of the Blood Beast. By the time legendary pulp cinema director Roger Corman released The Little Shop of Horrors in 1960, moviegoers had become familiar with such spine-tingling slogans and over-the-top titles. The popularity of the drive-in movie theater peaked in the late '50s, and along with it came a rash of films that blended horror, science fiction, and camp sensibilities. Hordes of cinephiles flocked to the parking lot movie palaces, which became stomping grounds for the low-budget "B Movies" that were losing their billing at indoor theaters as double feature programming was phased out. These films tend to chronicle an ominous species' attempt to extinguish humanity and have been belittled for their hyperbolic acting, outlandish plotlines, and cheaply-constructed monsters. But they have also been favorably considered for their frank dramatization of the cultural dread that permeated mid-20th century America. The heart of these films is their exuberant investigation of human fear. Critics have noted the thematic resonance between parasitic creatures like giant leeches and body-snatching seed pods with the social hysteria surrounding communism, McCarthyism, fascist totalitarian rule, xenophobia, and post-war nuclear annihilation. Many of the films, moreover, hearken back to Mary Shelley's Frankenstein, one of Sci-Fi's pioneering ancestors, by exploiting the trope of the "mad scientist" whose moral compass spins out of control in his pursuit of progress.
Corman's Little Shop, written by master of the bizarre Charles B. Griffith, winks at the hallmarks of these films and adds a dark sense of humor to the mix. By incorporating wicked social satire and classic slapstick comedic routines, this seemingly silly story—a dimwitted botanist decides to commit murder to feed his man-eating plant—becomes a nightmarish parable centered on the struggle for upward socioeconomic mobility and the psychic fallout of loneliness. When Howard Ashman and Alan Menken adapted Little Shop into a stage musical in 1982, they remained faithful to their source but pushed Corman's and Griffith's gestures to the extreme.
In songs like "Skid Row" and "Somewhere That's Green," the financial desperation and existential stasis trapping Seymour and Audrey is brought to the fore. The addition of '60s girl group singers Crystal, Ronnette, and Chiffon pulls the audience directly into the play. The three women function as Greek Chorus-like narrators, and their musical style brings the show's contrasting tones of gruesome horror and comic vitality into sharp focus, subtly mirroring the racially divided decade in which the play is set. The musical's most striking departure from Corman's film is the alteration to the ending, which has sparked controversy since its premiere and was ultimately rewritten for the star-studded 1986 film adaptation.
Beneath the vintage charm and toothsome throwbacks to a bygone era, Little Shop of Horrors conjures an atmosphere of unease. The creators train their visionary eye on humankind's insatiable appetite for power and control, while skewering our willingness to rationalize our wrongdoings and eschew responsibility for our actions. Ashman and Menken—and Corman and Griffith before them—may have been sending up a culture of trepidation now sixty years old, but their razor-jawed observations on social anxiety snap just as tightly today.
Portland Center Stage is committed to identifying & interrupting instances of racism & all forms of oppression, through the principles of inclusion, diversity, equity, & accessibility (IDEA).