The Armory Bar Takes on English History
December 3, 2019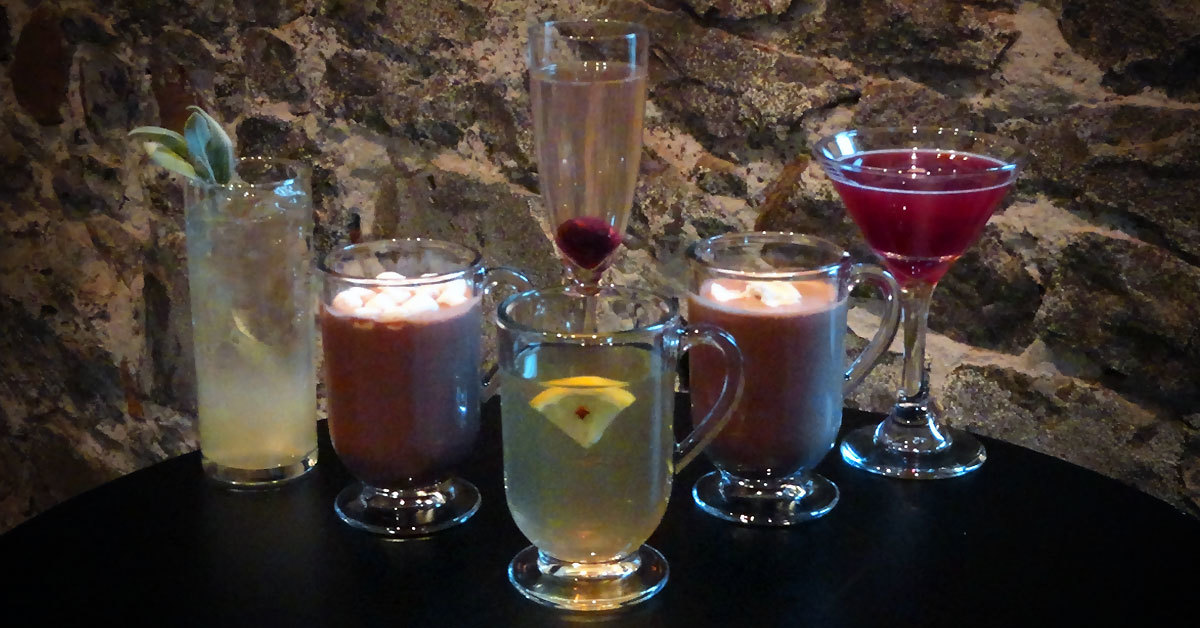 Drifting back to England during Jane Austin's time, The Armory Bar explores what might have been served at Pemberley during a Christmas celebration. Out of this, we have created for four new cocktails and, since we hope to see lots of families, we also have two new mocktails. We hope they warm your hearts this festive season.

Jovial Temperament - What I love about the winter holiday season is families and friends coming together to celebrate, which is the basis for Miss Bennet: Christmas at Pemberley. In celebratory fashion, I wanted to have a sparkling cocktail. While researching English cocktails, I came across a Cherry Bakewell Fizz. Cherry Bakewell is a cherry gin based out of the UK, but I always try to use a local spirit in each cocktail. Lucky for me, Stone Barn Brandyworks had their Pacific Northwest Cherry Brandy available which uses Rainier cherries. A bit of this brandy and lemon juice in some LaMarca Prosecco produces a delightful flavor that will have you saying a jovial "Cheers!"
A New Tradition - One centerpiece of conversation at Pemberley is the new tradition of a Christmas tree within the household. While we just did a "tree-based" cocktail for Redwood, I decided to take a different approach with this drink and celebrate another historical wintertime tradition: hot chocolate! As a non-coffee drinker, I must admit I am a hot chocolate snob and refuse to serve powder packs dumped in hot water that, despite effort, never fully dissolve. So our kitchen manager Erin came to the rescue, creating a crock-pot based hot chocolate recipe that is ready to be served when you arrive. My favorite hot chocolate is spiked hot chocolate, so I do add a little tree element in the form of oak-aged Burnside Bourbon. For some additional local sauce, I also add Townshend's Spice Tea Liqueur which has some orange in it that, mixed with the chocolate, brings back memories of chocolate oranges in stockings. It is topped with a dollop of house-made whipped cream to please your inner kid.
Complexities of People - I love Arthur's line of "I often find myself quite unprepared for the complexities of ... people." I decided to create a social drink to help combat Arthur's social awkwardness. After Luke, our audiences services director, mentioned "punch," I went down a rabbit hole trying to find a punch that would have been served during Jane Austin's time. There's a lot of interesting history about punch, like its having been brought from India by sailors. The word punch is believed to come from the Hindi word "panj" meaning five because the basis for punch is five ingredients: alcohol, sugar, water, lemon, and tea/spice. It started to be made with rum and fruit when the sailors traveled to the Caribbean and were using what they could find.

At last I found a cool YouTube channel called English Heritage where they show how to make a traditional Christmas Gin Punch. To recreate this, and add local flavor, I use New Deal's Dry Gin 33 and ginger liqueur. We combine all the spices of clove, cinnamon and nutmeg with brown sugar into a simple, then adding lemon juice and hot water to complete. It is topped with a cloved lemon.
*Another fun fact, back in the day when gin was becoming popular in the UK and beer was being heavily regulated, they used to drink gin by the pint because they were used to drinking beer that way! I do not recommend this.
Difficulties of Courting - If you read the last section, started craving fruit punch, and were disappointed that it's not a very fruity cocktail, have no fear! In the midst of trying to make a fun cocktail using traditional elements, I managed to come up with something that tastes like a fruit punch martini! Reflecting the many berries you'll find growing in England, I use Wild Roots Raspberry Vodka. For something traditional, I wanted to finally experiment with orgeat. Orgeat is an almond syrup with essence of orange flower water, and its earliest printed recipe can be found in The English and Australian Cookery Book, published in 1864. Back then, they used bitter almonds which contain cyanide, but have no fear; modern orgeat is not poisonous. To balance the sweetness of these two components, we use another local flavor, Crescendo Limoncello. This martini is adorned with a floating almond.
Romantic Schemes of Plants - When Mary is expressing her doubts regarding Lydia's happy marriage, Lizzy says "Have your books on botany illuminated the romantic schemes of plants." This is one of my favorite lines and so I set out to make a romantic plant mocktail. I find pomegranates to be winter's romantic fruit and created a pomegranate lemonade using Purity Organic Lemonade and Polar Pomegranate Seltzer. It's enhanced with some plant love in the form of sage simple and garnished with sage leaf.
Miserably Happy - I think it's hilarious when Lydia is trying to convince her sisters she is happily married by saying, "... we are terribly, horribly, miserably happy." For this mocktail, we are offering un-spiked hot chocolate with marshmallows that we hope will make you miserably happy ... well, maybe just happy.
---
Don't try this at home ... or do! Here is a recipe for one of our concoctions:
Jovial Temperament
1/4 oz Stone Barn Brandyworks Pacific Northwest Cherry Brandy
1/4 oz fresh lemon juice
Fill LaMarca Prosecco
Place a cherry in the bottom of a flute glass. Add the Cherry Brandy and lemon juice. Fill the rest of the glass with Prosecco, pouring down the side of the glass to mix in with the brandy and lemon juice. For an extra kick, soak the cherry in the brandy beforehand.
Visit Stone Barn Brandyworks to pick up their cherry brandy and try one of the many other brandies and liqueurs they offer.
Portland Center Stage is committed to identifying & interrupting instances of racism & all forms of oppression, through the principles of inclusion, diversity, equity, & accessibility (IDEA).