The p:ear Giving Tree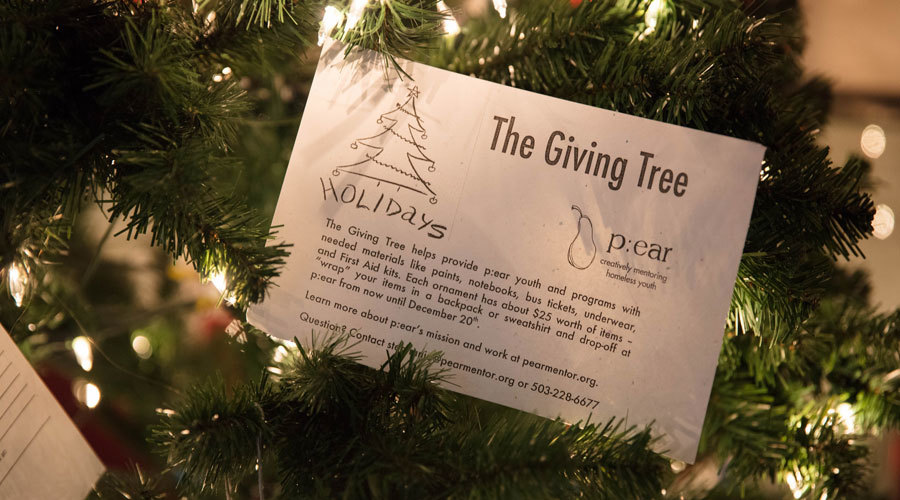 We're thrilled to host our annual Giving Tree for p:ear, a fantastic non-profit whose mission is to provide mentoring services to Portland's homeless and parent-less young people for over 15 years.

Every winter, our youth are looking for basic needs such as socks, backpacks, bus tickets, gift cards, art supplies, and other items that are around $25. The Giving Tree helps us supply our youth with essential items they need throughout the year.
How does it work? Simply choose an ornament from our Giving Tree hosted in our lobby and return it with the gift item listed on the back for a client at p:ear by December 22nd. Gifts should be unwrapped and new or gently used.
Gift examples:
Knitting/crochet needles
35mm black & white film
Movie tickets
Journals and gel pens
Acrylic paint
Hair dryer
Colored duct tape
Needlenose pliers
Matching gloves & hat
Backpack
Tri-met tickets
AA and AAA batteries
Beeswax
Gift certificates for: Fred Meyer, Ross, Payless Shoes, Apple Music, TruValue, Powell's, Art Media, Michael's, or Rite-Aid.
About p:ear
Founded in 2002, p:ear has provided invaluable mentoring services to Portland's homeless and parent-less young people for over 15 years. p:ear's mission is to builds positive relationships with 15-25 year old homeless and transitional youth through education, arts, and recreation to affirm personal worth and create more meaningful and healthier lives. Each year, p:ear serves roughly 800 homeless young people. Currently, we see 55 youth per day. p:ear was created from a vision of compassion. We believe that each youth deserves to empower themselves and to develop a positive self-identity that encompasses a sense of self-worth and a capacity for risk, growth, change. pearmentor.org
Portland Center Stage is committed to identifying & interrupting instances of racism & all forms of oppression, through the principles of inclusion, diversity, equity, & accessibility (IDEA).