the ripple, the wave that carried me home
Like diving into a pool of water, suspending you with bright humor and healing depth.
October 8 – 30, 2022
On the U.S. Bank Main Stage
Like diving into a glorious pool of water, this play suspends you with its bright humor and healing depth.

When Janice is pressed to return to her hometown and speak at a ceremony honoring her father, she has to reconcile with the childhood she's tried to distance herself from and forget — one defined by her parents' political activism and fight for the integration of their local swimming pools. Drawing on history that spans from 1930s segregation to the Rodney King trial and beyond, this deeply moving story explores the joys and challenges of forgiveness, justice, and the weight of one's family legacy. Written by Tony Award-nominated playwright Christina Anderson, this gorgeous play was just selected as the winner of the coveted Horton Foote Prize!
"Anderson is a gifted playwright you want to pay attention to. She has the voice of a poet." –Variety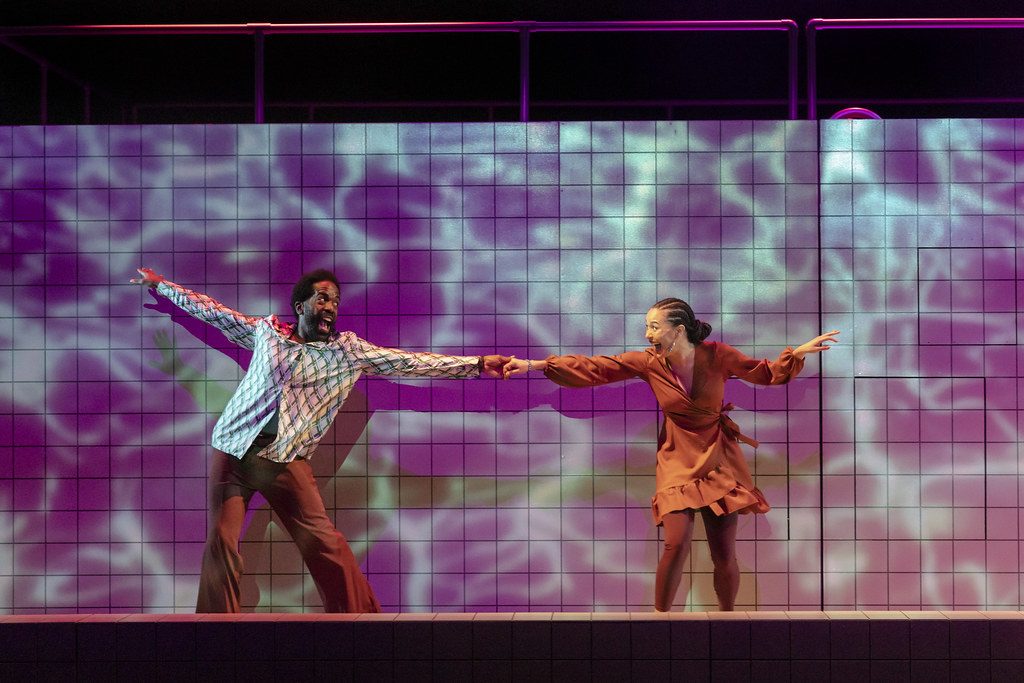 the ripple, the wave that carried me home Plot Summary
Please note, this synopsis contains spoilers.
In 1992, Janice receives a phone call from a woman called Young Chipper Ambitious Black Woman, who is representing the African-American Recognition Committee in Janice's hometown of Beacon, Kansas. The Committee is renaming a public indoor pool facility after Janice's late father, Edwin, and are asking if she will attend the ceremony and speak on behalf of her family. While Janice is actively avoiding answering Young Chipper's calls, her request sends Janice down memory lane and we flashback throughout her childhood in Beacon.
Janices' parents, Edwin and Helen Collen, met as young people in Beacon in the 1940s. Unbeknownst to him at the time, Edwin had learned to swim from Helen's father, who founded the first swimming program for black children at Brookside Pool. During this time, Beacon's three pools were, and remained, segregated for many years. In 1956, three boys, two Black and one White, drowned in a lake on the edge of town because there wasn't a pool where they could swim together. These boys became known as the Beacon Three, and Edwin and Helen used this tragedy to fuel the fight towards desegregating Beacon's pools. Although they are successful in their fight, this leads to the privatization of the local white pools, and the eventual closure of Brookside pool due to violent backlash from white pool members. At eight years old, the same age as the boys who drowned, Janice is persuaded by her father to join him in speaking at the annual Beacon Three memorial service, which she continues to do until she is 15 years old.
As Janice continues to reflect on her childhood and consider if she will attend the naming ceremony, she calls her Aunt Gayle for advice. The two women talk about the ongoing Rodney King trial, Young Chipper's persistent calls, and why the pool won't be named in both Helen and Edwin's name. While Janice confides in her Aunt that the naming ceremony brings up a lot of memories for her, Gayle urges her to face the memories and not run from them. Janice then dives into a deep memory of her and her mother on their weekly 45-minute trip outside of town to swim at a privately owned white facility before operating hours with the help of a facilities manager. In 1973, during one of these visits, Janice and Helen are told they can no longer use the swimming pool, and on the drive home are pulled over by the police. During this encounter, Helen is asked to step out of the car and an unnamed assault occurs. The Collen family silently vows not to speak of the incident, and a distance grows between Janice and her parents.
Soon, Janice's gregarious Aunt Gayle comes into town with her new husband. The couple have bought a farm in Tennessee and Janice begins to develop a new love and interest in land, and a disdain for water. Two years go by and Janice has stopped swimming altogether. Edwin, who has been repeatedly denied membership to the public pool clubs, hires a lawyer to represent him in a discrimination lawsuit. As Janices' disinterest in water grows, she asks her Aunt Gayle if she can visit her farm, and Gayle agrees. After receiving push back from her parents when she expresses her interest in working on the farm, Janice snaps and tells her parents that their fight is futile. Outraged at his daughter's defiance and disrespect, he hits her, leaving a bruise on her face. Another call from Young Chipper interrupts this memory, and after a revealing and vulnerable conversation between the two, Janice decides to attend the naming ceremony.
After their call Janice delves back into a memory of her summer in Tennessee with her Aunt Gayle. Meanwhile back in Beacon, it becomes apparent that Edwin is going to lose his lawsuit, but Helen devises a plan to lease the closed Brookside pool from the city, and they gain enough support to successfully reopen it.
As Janice prepares for her trip to Beacon for the naming ceremony, she stumbles upon a box of letters that her mother sent her during her father's trial. Janice reads them and realizes how critical Helen's presence was during her parent's fight, and questions how she didn't see these sacrifices when she was a teen. She arrives in Beacon the day the Rodney King trial verdict is announced and Janice, her mother, and Aunt Gayle watch the L.A. Riots unfold. The next day, she speaks at the naming ceremony, dedicating space to recognize her mother's contributions to their community. The next morning, she joins Gayle and Helen at their water aerobics class at the Edwin P. Collen Jr. pool, swimming for the first time in nearly twenty years, accepting the joy, weight, and legacy of her family's relationship with water.
the ripple, the wave that carried me home Written by Christina Anderson
Local Reviews
"Dive into the ripple, the wave that carried me home, and leave a better human being" –PDXParent
"This play itself is beautiful - the way the story is woven together, the language that borders on poetry flowing over you like water - it's often heartbreaking, but also heart-filling." –BroadwayWorld
"As charmingly warm, personable and down-to-earth as it is politically incisive, poetically eloquent and emotionally grand, the ripple… serves up Black joy that's been earned through generations of effort in the world and reflection in private places." –Oregon ArtsWatch

"A superb play. One I am glad I saw, not just for the action on stage, but for the jolt it gave me when I realized that we haven't moved as far--or as quickly--as I thought we had. The whole country might benefit from that jolt." –The Crippled Critic
In the News
"PCS and ART are tackling the second-ever production of Tony-nominated playwright Christina Anderson's the ripple, the wave that carried me home." –Portland Monthly
"I knew I wanted to write about water as an element, but I didn't know what I wanted to write about specifically. Then I was researching environmental injustice and I found Contested Waters, and I was completely floored. I can't swim, my mother can't swim, a lot of people in my family can't swim, and it never occurred to me that a public policy could determine my access to water. That forced denial can turn things and make people believe that they're only for white folks, so as a kid I never felt like it was a thing I was missing." –Christina Anderson in an interview with American Theatre. View the Feature
National Reviews
"A poignant, transporting, and quietly subversive story of racial justice, political legacy, and family forgiveness." –TheaterMania

"Powerful … brings every period to life with vivid immediacy … Anderson's enthralling language is peppered with brilliantly evocative turns of phrase." –Bay Area News Group
"ripple seeks to enumerate racism's tolls and reclaim joy. ... It elevates the everyday to poetry. ... In its final glorious poolside scene, ripple lets [Janice] come out of the fortress she's built and rediscover the joys of the water." –San Francisco Chronicle
"Christina Anderson has written a touchingly humorous and passionate play that explores racial justice, family dynamics, and the importance of forgiveness. She has captured the essence of decades of a family's search for racial justice using only her sparkling talent, elegant direction, four excellent actors, and a creative stage set." –Berkeleyside
"Anderson's brilliant writing shows evidence of a careful hand … expertly telling a story of political and familial turmoil … every vignette of a memory passed is immaculate. The work is deeply empathetic, nuanced and above all, honest." –The Daily Californian
"In her moving new drama … playwright Christina Anderson gives us what we want — or, more accurately, what we need. A generous and empathetic writer, Anderson allows for triumph amid the tragedy and for growth and understanding amid hostilities and resentments … she even leaves us swimming in the possibility of joy." –Chad Jones' Theater Dogs
Portland Center Stage is committed to identifying & interrupting instances of racism & all forms of oppression, through the principles of inclusion, diversity, equity, & accessibility (IDEA).