10 Beloved Coming of Age Stories (For Girls)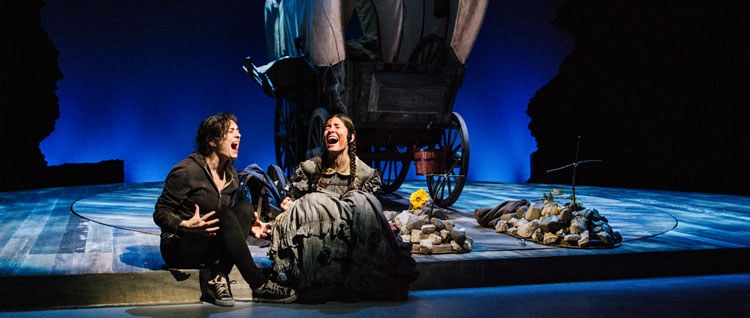 Guest blogger Nicole Hunt shares her favorite coming of age stories centered around female characters:

Growing up, I read The Outsiders, and The Adventures of Huckleberry Finn in school. At home, I watched Boy Meets World, Growing Pains, and other fantastic shows that portrayed the growing up experience to nearly painful perfection. I've always been fond of the coming of age stories of my adolescents. The love, heartbreak, loss, death, and other emotional traumas of youth so often continue into adulthood. These stories remind us that we're not so different. We all navigate the world in our own ways, but we still have to get from A to Z.

But so many of the books, movies, and TV shows I've loved over the years have focused on boys becoming men. In the spirit of The Oregon Trail at The Armory – a coming of age tale of two young women living in different time periods – here are my top ten picks for coming of age stories that center around girls.

Little Women by Louisa May Alcott

Little Women has earned its place on any list about coming of age stories. The beloved novel follows Jo, Amy, Beth and Meg as they grow up and find their own individual paths to happiness and adulthood. Little Women sees the March girls through poverty, loss and broken hearts.
My So Called Life
Though it only lasted one short season, My So Called Life captured the coming of age experience to near perfection. Claire Danes' Angela Chase starts out desperately in love with Jared Leto's Jordan Catalano, the quiet, emotional boy of every young girl's dreams. Though he doesn't even know who she is at first, the two eventually date (and break up). The final episode saw the two making up after Jordan professed his love through a letter written by another boy (who had loved Angela from the start). Angela realizes Jordan didn't write it, and drives off with him anyway. Since the series never had a second season, it accidentally created the perfect ending: Angela's realization that young love is not and cannot be perfect.
The Facts of Life

"When the world never seems to be living up to your dreams / And suddenly you're finding out the facts of life are all about you."


I remember sneaking The Facts of Life at 11 p.m. when I was a kid. I'd turn off my bedroom light and turn the TV way down so my mom wouldn't hear it. I made myself some popcorn (or whatever else I wanted) and settled in for a few episodes. Watching these four young women navigate life gave me hope that I would also be able to make it. No matter what happened, they always loved and supported one another. What more could you ask for in a coming of age story for girls?
The Wonder Years
"When you're a little kid, you're a little bit of everything: Artist, Scientist, Athlete, Scholar. Sometimes it seems like growing up is a process of giving those things up, one by one. I guess we all have one thing we regret giving up; one thing we really miss – that we gave up because we were too lazy, or because we couldn't stick it out, or because we were afraid."

This quote from the episode "Coda" gave me more motivation to chase my dreams than anything else. The Wonder Years is obviously a beloved coming of age story about Kevin Arnold. But for me, it was always about Winnie. I saw so much of myself in Winnie. She was quiet and shy. Her parents got divorced when the D word was still taboo. And in one of the most memorable episodes of the show, she lost her brother in Vietnam. Her experiences with her family life, her on-again off-again semi relationship with Kevin, and her tragic loss at such a young age all made her the unsung hero of The Wonder Years.







Are you there God? It's me, Margaret by Judy Blume


Just the name Judy Blume conjures up images of young girls growing up, doesn't it? No other author has quite the same knack for taking the coming of age experience and bringing it to life on a page. Are You There God? It's Me Margaret follows Margaret Simon as she tackles crushes, finding her own voice, and managing her first period. Even though the book was written in 1970, it's still as fresh and relevant as it ever was.



Girl Meets World
I already mentioned my love for Boy Meets World, so this one shouldn't be too surprising. What could have been a forced and painful Disney spin off turned into a beautiful and heartfelt stand alone show. The relationship between Maya and Riley teaches young girls what female friendship is supposed to be. Maya is a troubled artist who never knew her dad. Riley is an eternal optimist who walks through life with rose colored glasses. The two girls balance each other out and help one another through crushes, loss, and the confusing time between adolescence and adulthood.

My Girl

Life is hard for Vada Sultenfuss. She never knew her mother (who died giving birth to her) and her father runs a funeral home out of her house. She is extremely comfortable with death and not much else. The movie follows the tomboy as she navigates growing up an outsider with a massive crush on her teacher and a male best friend. It will both warm and break your heart.

The Sisterhood of the Traveling Pants by Anne Brashares

The Sisterhood of the Traveling Pants follows four girls, who have been best friends since birth, as they spend their first summer apart. They are united by a pair of jeans that magically fits each of them despite their very different figures. The girls have four completely different summers (from Santorini to South Carolina) but are united by their love and support for one another.

Mystic Pizza
Mystic Pizza is the story of three girls (Daisy, Kat and Jojo) as they spend the summer after high school working in the local pizza shop. The movie follows all of the girls as they make plans to get out of Mystic, Connecticut. It's a reminder that growing up sometimes happens faster than we hope, and that family and friends are our closest comrades throughout life.

Wild by Cheryl Strayed
Wild deviates from the typical coming of age story since it starts when Cheryl is already in her twenties. But to say it's not a coming of age story is to completely miss the point of Strayed's memoir. After her mother dies, Cheryl indulges in years of substance abuse and self-destruction. She repeatedly cheats on her husband with strangers and ends up in a painful divorce. With no hiking or wilderness experience, she decides to hike the Pacific Crest trail to heal her soul. The story holds a mirror to the reader and asks her if she can see herself in Strayed.



For another timeless coming of age story, come see The Oregon Trail at Portland Center Stage!
Portland Center Stage is committed to identifying & interrupting instances of racism & all forms of oppression, through the principles of inclusion, diversity, equity, & accessibility (IDEA).