A Magical Collaboration, Part 2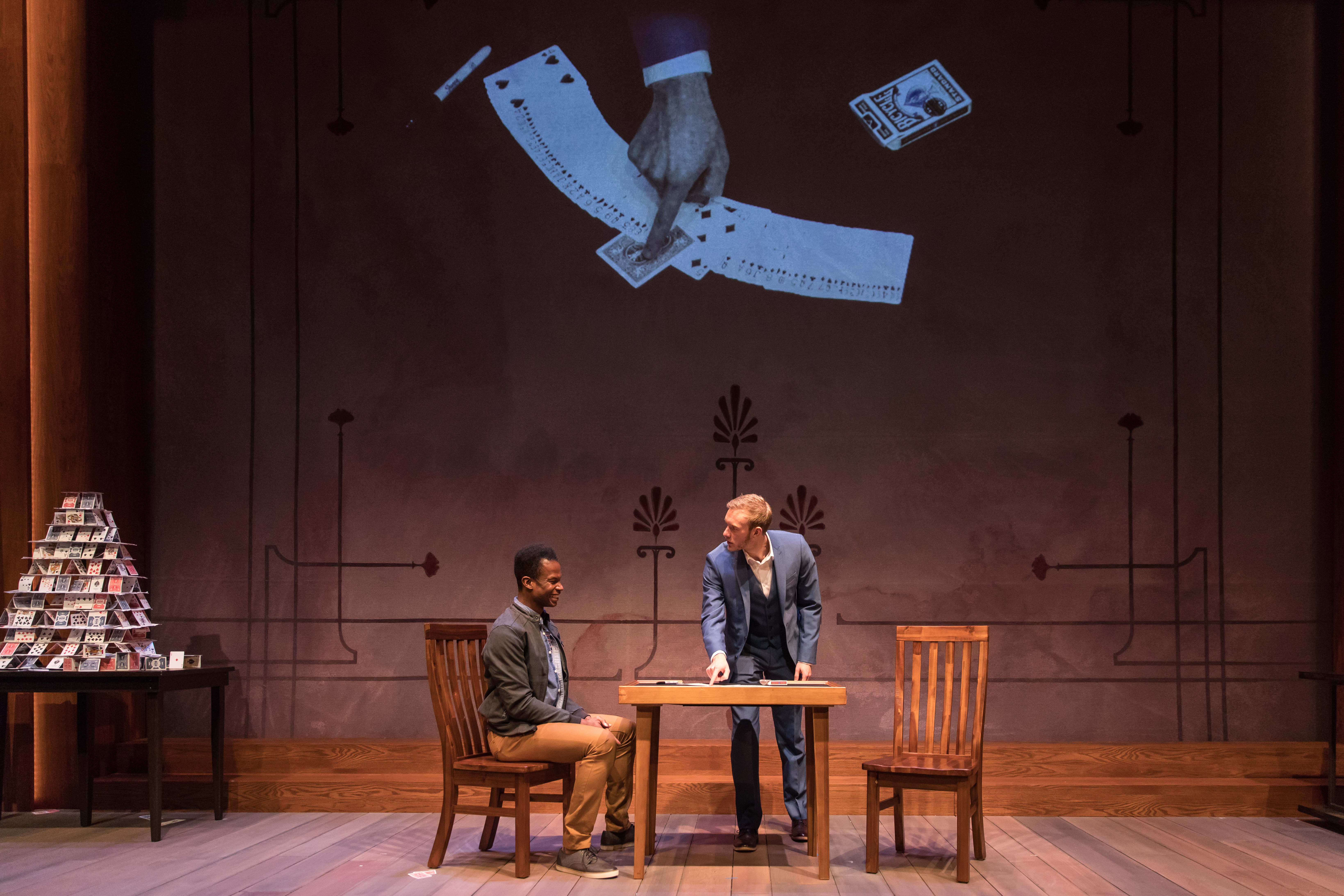 Interview with performer/magic creator Brett Schneider:
The Magic Play is the result of a multi-year collaboration between playwright Andrew Hinderaker and magician and actor Brett Schneider. While the play was having its rolling world premiere at Goodman Theatre and Olney Theatre Center, Andrew and Brett spoke about their love of magic and their work on this stunning theatrical hyrbid. Read the interview with Brett Schneider below and the interview with Andrew Hinderaker here.
When did you first become interested in magic?
I received a magic kit as a gift as a child, but was too young to understand it, so it sat on a shelf until I was probably 11 or 12 years old. Once I was able to teach myself, I pulled it down and was hooked. A lot of kids go through a magic phase but then lose interest. I stuck with it because, in addition to my magic kit, I found a local magic shop in San Francisco called Misdirections that just blew my mind and opened up a whole new world of possibilities. I had some friends who were interested in magic, but I mostly learned the old school way through books and then started performing on my own part time as a teenager.
Is that when you decided to incorporate elements of traditional theater into your shows?
As a teenager I started really getting into theater separately. I was lucky to have a great high school drama teacher who taught a lot of improv and ensemble-driven theater that inspired me to embrace the storytelling aspect of theater. As I was performing more as a teenager, theater helped my magic and vice versa. I didn't really think of combining the two until I was at Northwestern University. I had a writing partner who was into performance art and we started picking apart magic as a craft and why it's valuable and what we found interesting about it. In my mind, magic is a subcategory of theater. I don't see them as separate anymore. Theater is an umbrella term that covers so many different things. If you're an illusionist or a mind reader, you're a theater artist. Your magic and craft is simply the medium you choose.
Due to the audience participation in The Magic Play, each performance is different. Do you enjoy that as a performer?
It's incredible. I can't say enough about how much of a gift this project has been for me over the last few years. It's pushed me in so many ways as a magician, an actor, an illusion designer, a storyteller and has really helped me hone my craft. Andrew Hinderaker wrote this piece in such a manner that the performances literally can't happen the same way twice and the show will always be different depending on the audience that night. That's really exciting and really satisfies Andrew's desire to take real risks in the theater.
Do you believe magicians should ever reveal the secrets behind their tricks?
It's a case by case situation. If I'm working as a consultant on a theater piece and collaborating with other artists, I'm eager to teach the production team how and why something works and how to do it best. During the production process for this show, I met with all of the incredible designers. When I taught them something, they would add their own ideas and completely improve it. I have no qualms about sharing secrets with those who are ready to learn because that's how I learned. For those who are willing to work hard, the answers are there. There's a saying: "The door to magic may be closed, but it isn't locked."
Interview by Michael Mellini, OnStage Editor, Goodman Theatre
Portland Center Stage is committed to identifying & interrupting instances of racism & all forms of oppression, through the principles of inclusion, diversity, equity, & accessibility (IDEA).