Jocelyn Bioh: An Interview with the Playwright
"We seldom get to see Black women on stages that allow space for joy and community."
–Lava Alapai, Director of School Girls
Jocelyn Bioh's School Girls; Or The African Mean Girls Play had its world premiere Off-Broadway in 2017. Since then, it's been a hit across the country, garnering rave reviews and playing to packed houses with extended runs. Bioh also happens to be a successful actor — she appeared on Broadway in The Curious Incident of the Dog in the Night-Time and the role of Minnie in Branden Jacobs-Jenkins' An Octoroon was written specifically for her. She took a break from her busy schedule to lend some insight into her brilliantly funny and poignantly revealing new play.
---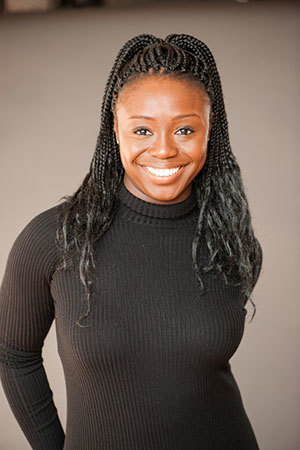 One inspiration behind this play was the real-life Miss Ghana Pageant of 2011, in which officials selected a bi-racial woman who was born and raised in the United States as the winner, beating out two of Ghana's most popular models, who both had darker skin. What was it about that event that resonated so strongly with you as a springboard for this play?

Well, I always knew I wanted to write a story about colorism, but I didn't know how to approach it without it sounding "preachy," and I desperately wanted to avoid that. When I read about the pageant, it was like I had a lightbulb moment. It felt like such an easy and seamless way to talk about colorism and still give me plenty of comedic room for the story.
You drew from your mother's experiences attending a boarding school in Ghana and your own time at a boarding school in Pennsylvania. Why was it important for you to revisit the teenage years with this play, and how did these personal connections shape the way you developed the characters?
I wanted to set the story in a boarding school because it played such a huge part in my life and in my understanding of how girls interact with each other. From an early age, we can be vicious, as we are often pitted against each other. I had a great core group of friends (who I'm still very close with to this day), but we had some sour apples back in the day, and the way it affected our dynamic was very interesting to me. It seemed those were some of my mother's experiences as well, and she went to school at a different time and in a different country than I did. So I understood the rich universality of these experiences.
Obviously, the "Mean Girls" tropes are ones that are explored in the film as well. Because of its popularity, I thought putting "Mean Girls" in my title would quickly contextualize the play — which it does. Because of this, people often think that I wrote School Girls based on Mean Girls, but I think it's pretty clear that teenage bullies are universal!
This play lays bare the damaging impacts of colorism in such a raw, personal way, and it also highlights the devastating effects of Western beauty standards around the globe. What are some of the things that have helped you overcome these oppressions in your own journey into adulthood?
Growth. As a young girl, there was so much I didn't understand about what was being imposed on me about beauty ideals. It took a long time, and a careful observation of the messages that young women are inundated with, to understand that beauty is not a metric system — it's subjective. And one person's opinion should not determine that for the masses.
What are some of the responses you've received from audience members so far? Do you have a sense of what people of varying ages or backgrounds have been learning from these teenage girls?
It is thrilling to see School Girls popping up all over the country and even in Africa. I love that everyone, regardless of their race, feels the universality of the story and sees facets of themselves in the characters. And specifically, for white audiences, I am glad that they are becoming educated about colorism and, in some cases, have recognized their own implicit biases. You're never too young or mature to learn something new, and this play has been educational for a lot of people, and I love that.
What else would you like to share with audiences about this powerful play?
As a writer, it has always been important to me to add to the conversation of how Africa is reflected. Oftentimes, the stories about the continent that are being served up are usually tales of extreme poverty, struggle, strife, disease, and war. This narrative is a dangerous and calculated one, and it has always been my goal to present the Africa I know and love so dearly. School Girls was my first produced play, and I'm so thrilled at the reception — it's showed me and audiences that, slowly, the perception of the continent is changing.
Portland Center Stage is committed to identifying & interrupting instances of racism & all forms of oppression, through the principles of inclusion, diversity, equity, & accessibility (IDEA).