Popular Ghanaian Drinks Make Their Way into Armory Cocktails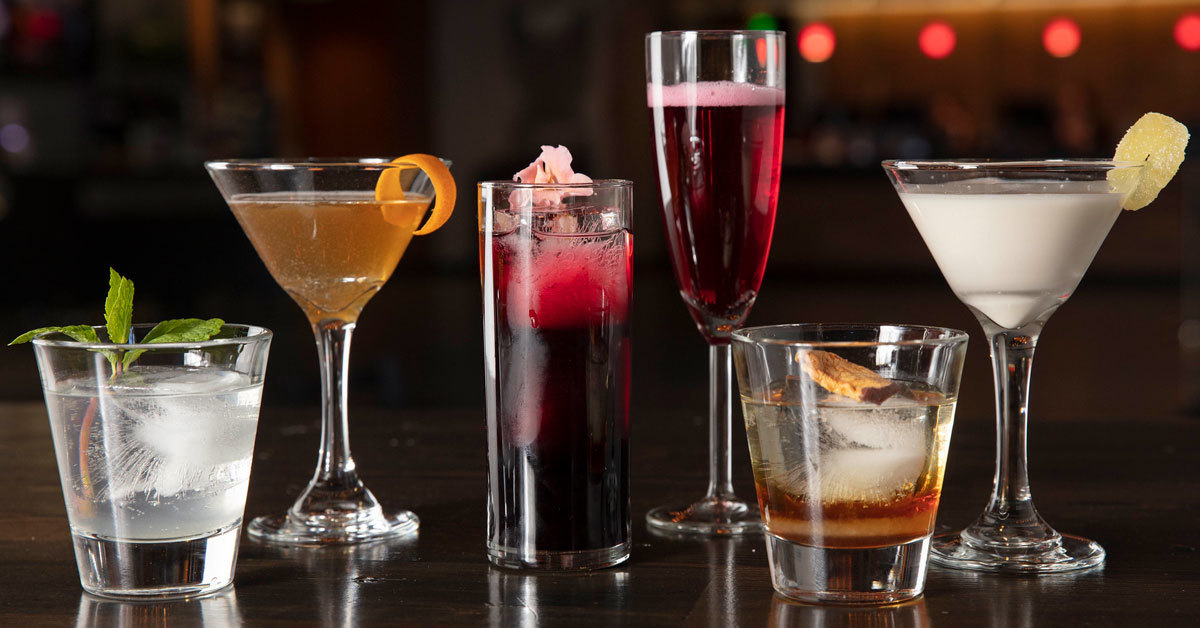 We are traveling around the world this season with our cocktails! So far we have been to the Caribbean, Baltimore, and England. Now, we take a journey to Ghana for some new and fun flavors. Our Bar Lead Katrina Hall and I read through the script pulling ideas that we could mix with the Ghanaian flavors we discovered. We hope you enjoy!
Lucky One — In our research, we came across Sobolo again — a drink made from brewing hibiscus with ginger, cloves, and sometimes pineapple, then adding sugar to sweeten the tart drink. We had used this drink as an inspiration for Nettie's cocktail for The Color Purple, but never actually tried to make it from scratch. There are many recipes for Sobolo, but I came across a Mrs. Drewry Food called Mrs. Drewry Food and followed her recipe to make this tasty drink. For the cocktail, we make a take on a mimosa adding the Sobolo to LaMarca Prosecco. Bubbles to toast for the "lucky one" in School Girls — yet, who is really the lucky one in this story?
Reputation to Maintain — When I was in high school, I had a project on Western Africa and I found this book on the Igbo tribe (Nigeria region). I remember reading about the importance of the kola nut to their culture and since then, I have always been curious as to what kola nut was like. (I didn't make the connection that the kola nut — naturally caffeinated — was half the basis for the original recipe of Coca Cola ... cocaine from the coca plant being the other half.) Reading about Ghanaian flavors, I came across the kola nut again and knew I wanted to incorporate it somehow. Its not easy to come by here, but I found Pratt Standard True Kola Syrup that pairs kola nut with vanilla and spices to use in this drink.

The other inspiration for this cocktail comes from Paulina's determination to set standards for her crew in the form of a diet of apples because "they have a reputation to maintain." Wild Roots has a delicious Apple Cinnamon Vodka that pairs nicely with the True Kola Syrup. Lemon and seltzer balance out the drink, and it is garnished with a dried apple.

Playing Fair — Another popular Ghanaian drink we discovered was a spiced rice drink called Lamugee. Similar to horchata, this drink packs a punch with ginger instead of cinnamon. For the recipe, we again turn to Mrs. Drewry Food's Youtube page where she also has a video for making Lamugee that includes her adorable son. We follow her recipe using rice, ginger, clove and sugar; but we leave out the lemon extract (she recommends lemon instead of the banana extract that is often used in Ghana for this drink). We decided to keep the banana flavor in the form of Giffard Banane du Bresil. For local flare, we use Below Deck's Silver Rum. For those ginger lovers who can't get enough of it, this drink is garnished with candied ginger. The name reflects how this play questions the meaning of playing fair. Eloise's answer, "You can't get anywhere in this world by playing fair."
The Recruit — When we were going through cocktail name ideas from the script, this one stood out as a classic whiskey drink. Using Crater Lake's Rye Whiskey, we looked for a unique ingredient to pair with it. Root vegetables are used a lot in Ghanaian cooking, especially yams. I was tempted to experiment with yams, but we opted for the sweeter sweet potato to make a simple syrup using brown sugar. To add to these flavors, we took the Old Fashioned route, throwing into our shaker a bit of orange and Bitter Housewives' Old Fashioned Bitters. Instead of doing this on the rocks, we serve this martini style with a candied orange rind.
Makeover Party — We wanted a chance for everyone to try Ghanaian flavors, so Sobolo is also our mocktail for the show. We imagine the teenage girls in the play drinking Sobolo during their makeover party with the new student, Ericka.
Wig in a Box — This is our cocktail for Hedwig and the Angry Inch, our studio show. In the beautiful song Wig in a Box, Hedwig sings about how — through wigs and makeup — she is able to transform herself into the person she wants to be. Thinking of things that help us feel renewed, we created our first CBD cocktail using Aprch Cucumber Mint CBD Sparkling Water. Hedwig mentions sipping Vermouth in the song, which is an acquired taste on its own, but makes a great mixing ingredient. Aria Gin and Cinzano Dry Vermouth is paired with the cucumber mint CBD water as well as lemon simple to complete this refreshing drink.
---
Want to attempt one of these drinks at home? Here is the recipe for Playing Fair, including instructions to make the Ghanaian drink Lamugee:
Playing Fair
1.5 oz Below Deck Silver Rum
.25 oz Giffard Banane du Bresil
1 oz Lamugee (see recipe below)
Throw all the ingredients in a shaker and give it a good shake. Strain into a martini glass and enjoy!
Lamugee
(I follow Mrs. Drewry Food's video "Best Lamugee (Spiced Rice Drink)" minus the lemon extract.)
2 cups soaked rice (overnight)
1/2 cup ginger
1 tbsp whole cloves
1/2 cup sugar
water
Cover your rice in water and let it set overnight. Drain rice and add it to a blender along with the ginger and cloves. Fill blender with water about an inch above the dry ingredients. Blend for about 30 seconds. Strain the mixture in a mesh strainer or cheesecloth, using a spatula to stir and press so all the liquid is strained. Add sugar and strain the liquid a second time to ensure it is extra smooth. It is now ready to use in your cocktail. If you'd also like to try this drink on its own, simply chill and serve over ice.
Portland Center Stage is committed to identifying & interrupting instances of racism & all forms of oppression, through the principles of inclusion, diversity, equity, & accessibility (IDEA).