Specialty Cocktails Inspired by "Lady Day at Emerson's Bar and Grill"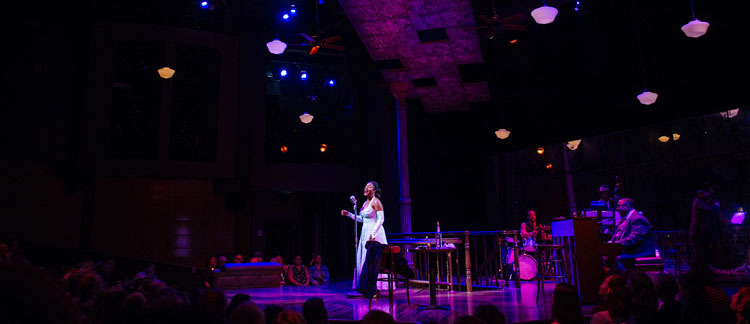 Bar Supervisor (and resident mixologist) Melissa Larrabee introduces the specialty cocktails in honor of our final show of the season, Lady Day at Emerson's Bar and Grill. Inspired by the show's 1959 setting, Melissa's concoctions are modern takes on cocktails popular in the 1950s. Our delicious specialty cocktails are available at The Armory Bar through the run of the show.



Baby Doll
Baby Doll is an homage to the classic Gin and Tonic as well as the Vesper. Gin and Tonics have been around for over a century, but the Vesper first came to fruition in Ian Fleming's James Bond novel Casino Royale in 1953. The Vesper is a twist on a gin martini using Kina Lillet instead of dry vermouth, vodka and a lemon twist. While Kina Lillet is no longer available, Lillet Blanc is, and the main difference between the two is quinine, that distinct flavor you find in tonic. So for the Baby Doll cocktail, I combine Crater Lake's Gin with Lillet Blanc and tonic. I skipped the vodka and instead of a lemon rind, I garnish a dehydrated lemon. "Baby Doll" is a Bessie Smith's song that Billie liked to sing.

Pops and Bessie
This is my ode to a cocktail that few these days have heard of, the Sloe Gin Fizz. I knew I would do this classic after my grandma told me it was her favorite mixed drink, and that it was all the rage in the 1950s. Sloe gin is more of a liqueur than actual gin made with sloe berries, which are a relative to plums. A classic Sloe Gin Fizz has sloe gin, lemon juice, simple syrup, soda and sometimes egg white. I enhanced this with cinnamon simple, playing off the slight plum flavor of the spirit. Other recipes of sloe gin use Angostura bitters. I took the local route, using The Bitter Housewife's Old Fashioned Bitters which has bit more spices than Angostura. The end result mixes Hayman's Sloe Gin, Dry Gin 33 (to balance sweetness), cinnamon simple, Old Fashioned Bitters, lemon and soda. It is named Pops and Bessie after the two singers Billie admired most, Louie Armstrong and Bessie Smith.

Deep Song
Debuting in 1949 in Belgium, the Black Russian became popular in the 1950s. Most know its sister cocktail the White Russian which became trendy as a result of the nineties movie "The Big Lebowski." Before cream was added, it was a simple, yet strong drink of coffee liqueur and vodka. Wanting to play with the coffee flavor do a cocktail with stout, I mixed in Fort George's Cavatica Stout to add richness. For a little sweetness and almond flavor, I add just a little Luxardo Amaretto. Keeping the base ingredients local, I use Eastside's Portland Potato Vodka and Hue-Hue Coffee Rum which uses free-trade, Arabica coffee beans grown in Huehuetenango, Guatemala and sourced through Portland Roasting Company. It is shaken and served martini style for a cool visual effect. The garnish is coffee beans. The name "Deep Song" comes from the song Billie sings at the end of the show.

Pepi
In 1938, Mint Juleps became the official drink of the Kentucky Derby, but in the 1950s, it was the drink of the summer everywhere. It is quite a basic cocktail as original recipes mix bourbon with sugar, pour over shaved ice and then add bushels of mint – the mint being more for smelling than taste. Nowadays, you will find mint muddled in the bourbon. I decided to take the route of making a mint simple and adding in Marie Brizzard Apry, a quality apricot brandy. For the bourbon, I use in Burnside Oregon Oaked Bourbon. To switch things up, instead of using shaved ice, this cocktail is shaken and served martini style. It's named after Pepi, Billie's dog who makes an appearance in the show!
Portland Center Stage is committed to identifying & interrupting instances of racism & all forms of oppression, through the principles of inclusion, diversity, equity, & accessibility (IDEA).