Reviews of "Lady Day at Emerson's Bar and Grill"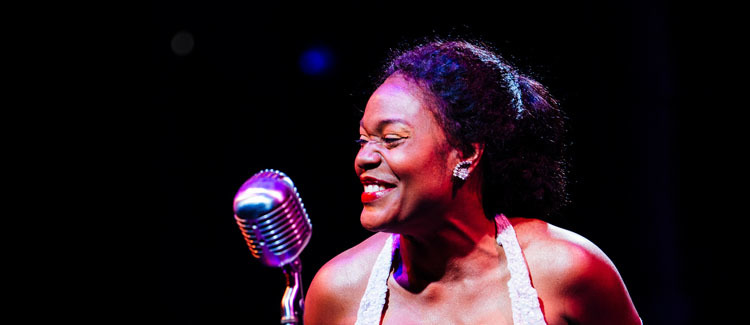 What Critics are Saying:
"Packed with great music and featuring an incredible performance by Deidrie Henry as Billie Holiday, Lady Day at Emerson's Bar and Grill is an absolute must-see." - BroadwayWorld
"Henry's Billie Holiday is a richly layered achievement ... With inexhaustible compassion and dignity, Deidrie Henry embodies the anguish and artistry of a jazz great pummeled by prejudice and poverty, caged by addiction and freed by music." - The Oregonian

"Her performance here is strong, polished, nuanced, affecting, pretty darn hard not to love." - Oregon ArtsWatch
"Deidrie Henry dons Billie Holiday's signature white gardenia and sings her way into our hearts and souls ... It is a riveting performance." - Judy Nedry
"Deidrie Henry is truly mesmerizing in Lady Day at Emerson's Bar and Grill ... It really feels like a club setting, as if we were indeed in the presence of a legend. I enjoyed every minute of its all-too-brief running time." - The Crippled Critic

"Her vocal range slides easily from ballads, to brassy, to mournful and to the upbeat." - Dennis Sparks

"Lady Day at Emerson's Bar and Grill is beautiful art; a stunning performer backed by a jazz trio that takes flight effortlessly off the stage into the throes of improv. Because the components are so perfectly crafted, this play becomes, in these talented hands, a searing voice raised in revolt." - Meg Currell
What Audiences are Saying:
"We LOVED it! It is a must see!"

"Theater at its best in Portland."
"Powerful, beautiful and important."
"Deirdre was brilliant and the band was unbelievable. Best theater I've seen in a long time."

"Deidrie Henry was divine and captured Billie's essence in every way. I smiled and wept throughout the show."
"A spectacular performance. Go see it!"

"Saw it! Loved it! Don't miss it! EXQUISITE!"
"This is the best performance I've seen in Portland. Unbelievably real and worth every penny."

"Portland Center Stage, you have done it again. This one's gonna resonate with me for a long time."
"One of the best performances I have ever had the pleasure to see."

"Even better the second time! Loved it!"
Portland Center Stage is committed to identifying & interrupting instances of racism & all forms of oppression, through the principles of inclusion, diversity, equity, & accessibility (IDEA).