Weather Update: Tonight's performance (1/18) is still on as planned! For information on our weather policy, please click here.
Wild and Reckless: A New Musical Event from Blitzen Trapper
March 16 — April 30, 2017
On the U.S. Bank Main Stage
Previews are Mar. 16-23 | Opening night Mar. 24
By Blitzen Trapper
Co-Directed by Rose Riordan and Liam Kaas-Lentz
A World Premiere!
Portland folk rockers Blitzen Trapper refuse to be pinned down and boxed in. The acclaimed band has mixed genre after genre into their musical arsenal over the fifteen years of playing together. Now they're unleashing their sound — and knack for lyrical storytelling — on the PCS stage. They've mined their Oregonian roots to create a show that asks: What's the sound of a life falling through the cracks? Fusing the energy of a rock concert with the imaginative possibility of the theater, Blitzen Trapper and PCS join forces in this new project, tracing the unforgettable stories of ordinary Americans caught in an extraordinary struggle to not get left behind.
Run Time:
Approximately 75 minutes; no intermission.
Note:
Recommended for ages 17 and up. Contains theatrical haze, strobe-like lighting effects, mature content, explicit language and adult situations. Children under 6 are not permitted at any production.
Performance Times
Evenings: Tuesday - Sunday at 7:30 p.m.*
Matinees: Saturday and Sundays at 2 p.m.,
Thursdays at noon*
*Note: These are general performance times. Certain productions may have exceptions. View the season calendar for more information.
This show's run time will be posted below the synopsis at left near the date of the first performance.
Related News & Reviews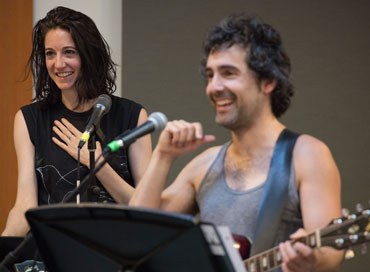 Check out photos from Blitzen Trapper's early development of Wild and Reckless during JAW: A Playwrights Festival July 2016.
Join the Conversation
Accessibility