Wild and Reckless: A New Concert Event with Blitzen Trapper
March 16 — April 30, 2017
On the U.S. Bank Main Stage
Previews are Mar. 16-23 | Opening night Mar. 24
Written and Performed by Blitzen Trapper
Co-Directed by Rose Riordan and Liam Kaas-Lentz
A World Premiere!
Blitzen Trapper mined their lyrical storytelling and Oregonian roots to create a story for the stage that fuses the energy of a rock concert with the imaginative possibility of the theater. Wild and Reckless traces the unforgettable tale of two kids on the run, in a futuristic vision of Portland's past. Evoking a bygone era of Portland, this sci-fi love story features a rock-and-roll score that pairs unreleased songs with favorites from the band's catalog, including "Black River Killer" and "Astronaut." Portland Center Stage at The Armory commissioned Wild and Reckless as the second world premiere in its new "Northwest Stories" series, dedicated to developing and producing stories about, or by artists from, the northwest region.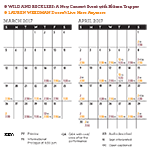 PLEASE NOTE:
This show runs in repertory with Lauren Weedman Doesn't Live Here Anymore on the U.S. Bank Main Stage. Click here to view a calendar showing both shows' performances.

Who's Who:
View the cast and creative team bios.

Playbill:
Explore the playbill.

Run Time:
Approximately 85 minutes; no intermission.
Note:
Recommended for ages 17 and up. Contains theatrical haze, strobe-like lighting effects, mature content, explicit language and adult situations. Children under 6 are not permitted at any production.

Resource Guide:
Download resource guide (PDF)
Performance Times
Evenings: Tuesdays – Sundays at 7:30 p.m.*
Matinees: Saturdays and Sundays at 2 p.m., Thursdays at noon*
*Schedule may vary for some shows. Please check our season calendar to confirm.
Related News & Reviews
As our city moves further away from its working class roots, guest blogger Nicole Hunt explores Blitzen Trapper's futuristic look at Portland's past in Wild & Reckless by reminiscing about things lifelong Portlanders miss about Portland before Portlandia.