The Curious Incident of the Dog in the Night-Time
A spectacular, atypical mystery!
November 27 – December 24, 2021
On the U.S. Bank Main Stage
Winner of five Tony Awards including Best Play!

This Broadway smash hit takes you inside the mind of Christopher, an exceptionally intelligent, neurodivergent 15-year-old boy. Now, it is seven minutes after midnight and Christopher is under suspicion of killing his neighbor's dog, Wellington, with a garden fork. Determined to find the true culprit, Christopher carefully records each fact of the crime. Ultimately, his detective work takes him on a deeply personal quest that upturns his world.
"Dazzling, pulse-pounding and remarkable."
–Time Out New York
Sensory-friendly Performance
December 21, 2021, 7:30 p.m.
– We are pleased to offer a special sensory-friendly performance
,
designed to be enjoyable by all, but with some changes for those who are neurodivergent or have sensory issues. We will alter the theater environment to provide a safe, friendly, and comfortable zone, where patrons are invited to make sounds, enter and exit as needed, and enjoy the show with their family and community.
Learn More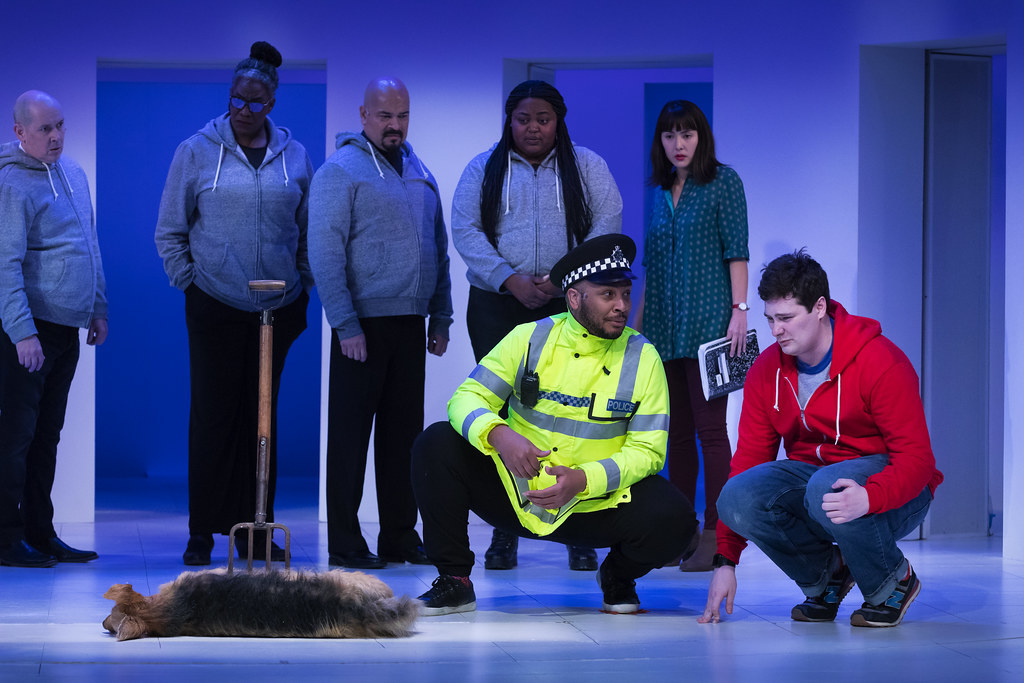 Curious Incident Plot Synopsis
Please note, this synopsis contains spoilers.
Christopher Boone is 15 years old and lives in the English town of Swindon, located about 100 miles west of London. He is extremely curious, an excellent mathematics student, and has an extraordinary ability to observe and retain highly detailed information about any situation he finds himself in. Christopher lives with his father, Ed, and shares a close bond with his teacher, Siobhan, who encourages him to keep a written journal of his thoughts and activities, which they read aloud together as the play progresses. As a young person on the autism spectrum, certain social situations can be challenging or confusing for Christopher to navigate, and his work with Siobhan helps him express and process his unique perspective on the world around him.
Our story begins when Christopher discovers his neighbor Mrs. Shears' dog Wellington has been stabbed to death with a garden fork. Mrs. Shears assumes Christopher is the killer and calls the police. Christopher explains he did not kill Wellington, but the interaction becomes contentious and Christopher ends up arrested for hitting the policeman. Ed comes to the police station to retrieve Christopher. It is sorted out that the teen definitely did not kill the dog, but the incident puts more stress on the already touchy relationship between Ed and Christopher. Christopher resolves to make it his personal mission to solve the case of who killed Wellington. Meanwhile, in sessions with Siobhan, we learn that Christopher's mother Judy developed heart disease and died in the hospital; Ed relayed the news but never allowed Christopher to visit Judy during her illness.
While Ed works with Christopher's teachers to get him placed in advanced mathematics classes, Christopher sets out on his investigation. He goes around to the various people of his neighborhood looking for clues. As he gathers information about Wellington's death, he stumbles into secrets about his own family history. Eventually, Christopher discovers that his mother had an affair with their neighbor, Roger Shears. When Ed learns of his son's discovery, he unleashes a flood of repressed emotion upon his son, which culminates in a moment of violence. In the aftermath, Christopher discovers that his father has lied to him — Christopher's mother is alive and well and living in London. She left Christopher and Ed behind, but she has since mailed dozens of letters to Christopher that Ed has kept hidden for years. Ed is forced to tell Christopher the truth about his parents' relationship, and Ed also confesses to murdering the dog Wellington in a fit of despairing rage.
Ed's confession throws Christopher's world into chaos. Christopher is convinced that since his father killed the dog he might kill him too, so he decides to leave home and find his mother. This journey will be the first Christopher has undertaken alone, and his way to London (via train) leads to a number of exciting but potentially hazardous interactions. Ed ends up catching the determined Christopher at the train station. He tries to stop Christopher, but ultimately watches him set out on his own to find Judy.
When Christopher finally makes it to Judy and Roger's house unannounced, they are shocked to see him. Judy is happy to reconnect with her child, but Roger is not particularly pleased. Judy discovers that Ed told Christopher she was dead. It's not easy news to process. Ed soon arrives at the house in pursuit of Christopher, and the boy's parents argue. Christopher indicates he wants to stay with Judy, not Ed, at least until his advanced maths exams come up the following week. As Judy readjusts to life taking care of Christopher, a life which was always challenging for her, her familiar patterns return and she upsets Christopher by canceling his advanced classes without telling him. Roger does not want Christopher in their lives and becomes violent with him; Judy knows they have to return to Swindon.
Judy faces the fact that she must place Christopher's needs in front of her own, and with help from Ed and Siobhan, Christopher's classes are reinstated and he takes his exams. In the end, the family begins a slow road to reconciliation. Christopher chooses to live with Judy, and his parents will share custody between London and Swindon. Ed gets a puppy, and the dog helps Christopher move toward forgiving his father. In a final moment with Siobhan, Christopher expresses pride at his bravery in solving Wellington's murder and finding out the truth about his family. He is left wondering about the full extent of his potential and has the sense, perhaps for the first time, that he can accomplish anything.

Meet the Cast
Meet the Creative Team
What Critics are Saying
"It's an emotionally charged play about a difficult time for a family, but it's also laugh-out-loud funny in a way that I didn't expect." - BroadwayWorld
"Poignant and crisp, this show reveals the earnest and straightforward and mathematical view of this 15-year-old whose brain doesn't work like everyone else's." - Wildfire Writing
"It's a gripping mystery, populated by great characters ... But the center of the story is Christopher and how he relates to the world around him ... Sanders soars in this play. It is a memorable performance, and one that has the ability to make us all more human." - Judy Nedry
"Everything I loved about the novel — the wit, the morally complex characters, Christopher's unique and genuine voice — all of it translated perfectly in the staged production." - PDXParent
Audience Raves for Our 2021 Production
"Engaging. Creative. Unexpected."
"The main character, Christopher, captured my heart and my sympathy, as well as my admiration for his spunk."
"I appreciated the amount of space that the director gave Christopher to experience what was going on, uninterrupted. I appreciated the subject matter... and in a way, learning a bit more about what it can be like to be on the spectrum."
"What a thrill to watch this play… staged beautifully."
"A well-staged moving performance. I felt like it gave insight into a life I'm not familiar with. A magical evening."
"I was enthralled. It was an altogether beautiful experience, from the people greeting us at the door to the standing ovation at the end."
"It is fabulous! Such talented acting — riveting and heartbreaking and heartwarming all at the same time."
Audience Raves for Our 2019-2020 Production
"Loved it. It was emotional, intense, poignant, real and humorous all at the same time."
"Excellent staging, excellent acting and a wonderful storyline."
"I was truly in awe of this performance."
"One of the best plays I have ever seen."
"Amazing show and amazing cast. Go see it!"
"Heart breaking, heart-warming, heart healing. It's what we need right now."
"Excellent! Superb acting, marvelous, unique staging. Very creative! Highly recommend!!!"


Acclaim for the Kansas City Repertory Theatre production
(directed by Marissa Wolf)
"Curious is hilarious, intense, bittersweet, and triumphantly successful at bringing the world of one character to the hearts of his audience, and offering us the chance to invoke empathy for all who are differently-abled." - PerformInk
"An impressive piece of work from director Marissa Wolf and a potent design team. … Played by Jamie Sanders, a young New York actor, Christopher is variously endearing, sympathetic, exasperating and awe-inspiring." - KCStudio
"Sanders is an ideal Christopher, capturing the character's literal thinking patterns and social anxieties without making his speeches stilted or overly earnest. More crucially, his performance is mature. Curious Incident has the structure of a coming-of-age tale, and Sanders has a firm grasp on how the general challenges of adolescence might become particular for someone like Christopher. …Wolf and Sanders keep the action big-hearted and unprecious." - The Pitch

"Outstanding acting, beautiful light schemes, a stunning set on a carousel, set pieces elevating from trap doors–all contribute to the effect of the play. Add to that great sound, costumes and movement and the play creates a modernistic texture that holds the piece tightly together." - KC Applauds

"A brilliant gem of many facets … Marissa Wolf's direction brings poignant compassion to playwright Stephens' slightly cockeyed – in the best sense – plot and storyline … Sanders' Christopher is by turns unnerving, brilliant, naive and savvy." - FrankieSez

National & International Acclaim
"A beautiful, eloquent, dazzlingly inventive show about the wonders of life." – Evening Standard
"This adaptation by the acclaimed playwright Simon Stephens is intensely, innately theatrical; it is also funny and extremely moving … resonates with quality." – Telegraph
"Winner of five Tony Awards including Best Play, Curious Incident risked being overhyped but instead is every bit as good as its acclaim indicates. Smart, original and brimming with humanity." - Hollywood Reporter

Selected highlights from our 2019-2020 production.
Top of page: Photo by Owen Carey
Portland Center Stage is committed to identifying & interrupting instances of racism & all forms of oppression, through the principles of inclusion, diversity, equity, & accessibility (IDEA).