Astoria: Part One
January 13 — February 17, 2018
On the U.S. Bank Main Stage
Adapted from the best-selling book by Peter Stark, this harrowing dual journey — one over land, one by sea — will be told with an exceptional cast of sixteen actors. At a time when the edge of American settlement barely reached beyond the Appalachian Mountains, two visionaries — President Thomas Jefferson and millionaire John Jacob Astor — foresaw that one day the Pacific would dominate world trade as much as the Atlantic did in their day. Just two years after the Lewis and Clark Expedition concluded in 1806, Jefferson and Astor turned their sights westward once again. Thus began one of history's dramatic but largely forgotten turning points in the conquest of the North American continent.
Run Time:
Approximately 2 hours and 40 minutes, including one intermission.
Note:
Recommended for ages 14 and up. Contains gunshot sound effects, and some mature content and language. The actors in this production will be using tobacco-free herbal pipes. Children under 6 are not permitted at any production.
Please be Advised:
Astoria: Part One is a limited engagement outside of the regular 2017-2018 season. Vouchers, promotional codes and coupons are not accepted for this production.

Performance Times
Evenings: Tuesday - Sunday at 7:30 p.m.*
Matinees: Saturday and Sundays at 2 p.m.,
Thursdays at noon*
*Note: These are general performance times. Certain productions may have exceptions. View the season calendar for more information.
This show's run time will be posted below the synopsis at left near the date of the first performance.
Related News & Reviews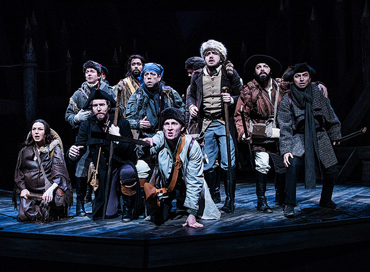 "Astoria is comparable to The Crown, Marco Polo, Frontier or any other prestige period drama saved in your Netflix queue. Even better: This monumental miniseries is live..."
Join the Conversation
Show Sponsors
Accessibility