"Major Barbara" Cast and Creative Team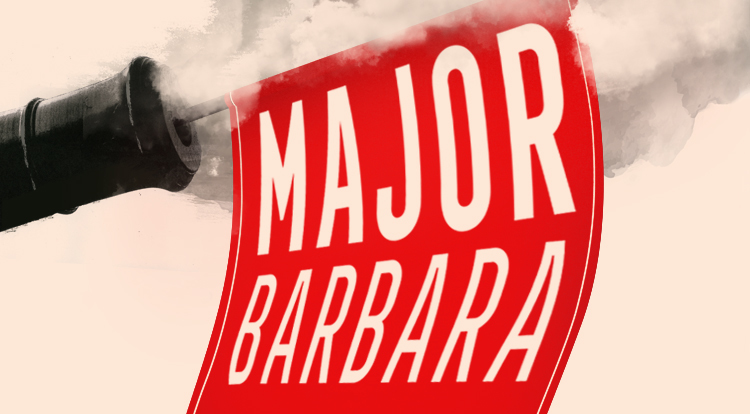 Major Barbara
By George Bernard Shaw
Directed by Chris Coleman
THE CAST
| | |
| --- | --- |
| Hanley Smith | Barbara Undershaft |
| Brian Weaver | Adolphus Cusins |
| Gavin Hoffman | Morrison/Peter Shirley/Bilton |
| Dana Green | Lady Britomart Undershaft/Rummy Mitchens/Mrs. Baines |
| Charles Leggett | Andrew Undershaft |
| Joshua J. Weinstein | Stephen Undershaft/Snobby Price |
| Chris Murray | Charles Lomax/Bill Walker |
| Nikki Weaver | Sarah Undershaft/Jenny Hill |
THE CREATIVE TEAM
| | |
| --- | --- |
| Daniel Ostling | Scenic Designer |
| Lex Liang | Costume Designer |
| Sarah Hughey | Lighting Designer |
| Casi Pacilio | Sound Designer |
| Mary McDonald-Lewis | Dialect Coach |
| John Armour | Fight Director |
| Barbara Hort, Ph.D. | Consulting Dramaturg |
| Kristen Mun | Stage Manager and Fight Captain |
| Jordan Affeldt | Production Assistant |
| Harriet Bass | New York Casting |
| Brandon Woolley | Local Casting |
The Actors and Stage Manager in this production are members of Actors' Equity Association, the Union of Professional Actors and Stage Managers in the United States.
ABOUT THE CAST
Dana Green
Lady Britomart Undershaft/Rummy Mitchens/Mrs. Baines
Dana is delighted to be back at The Armory. Other credits at The Armory include Constellations, Great Expectations, Othello and A Midsummer Night's Dream. Portland credits include Scarlet (Portland Playhouse), d.b. (CoHo Productions), Gidion's Knot, The Realistic Joneses (Third Rail Repertory Theatre) and Dead Man's Cell Phone (Profile Theatre). She spent four seasons with the Stratford Shakespeare Festival and has performed at numerous regional theaters, including The Old Globe, South Coast Repertory, Yale Repertory Theatre, Chicago Shakespeare Theatre, California Shakespeare Theatre, Shakespeare Santa Cruz, Asolo Repertory Theatre, Court Theatre, Meadow Brook Theatre and Shakespeare Festival of Dallas. Television credits include Early Edition, Grimm, The Librarians, Here and Now and American Vandal.


Gavin Hoffman
Morrison/Peter Shirley/Bilton
Gavin is happy to be back at The Armory where he played Duncan McDougall/Hoback in Astoria: Part One and Two, Joe in Great Expectations, Ligniere in Cyrano, Iago in Othello and Karl/Steve in Clybourne Park. Other local credits include: American Hero, The Understudy and The Monster-Builder at Artists Repertory Theatre; The Foreigner at Lakewood Theatre Company; To Cape, The Tripping Point at Shaking the Tree Theatre; Fifth of July at Profile Theatre; Body Awareness at CoHo Productions; and A Noble Failure at Third Rail Repertory Theatre. He has worked regionally and in New York. Gavin has guest-starred in Portlandia (IFC), The Big Easy (USA), The Librarians (TNT) and Leverage (TNT), and co-starred in Grimm (NBC). He is the recipient of four Drammy Awards. Gavin is a graduate of P.C.P.A. and has a B.F.A. in acting from Ithaca College. He is a proud member of Actors' Equity and SAG-AFTRA.



Charles Leggett
Andrew Undershaft
The Armory credits: Sorn, Stupid F**king Bird; Dogberry, Much Ado about Nothing; Liputin, The Devils. Charles is a three-time nominee (Ray, Yankee Tavern, A Contemporary Theatre, 2010; Lennie, Of Mice and Men, Seattle Repertory Theatre, 2011) and recipient (Shylock, The Merchant of Venice, Seattle Shakespeare Company, 2009) of the Theatre Puget Sound's Gregory Award for Outstanding Actor, and has twice (2009 and 2015) been nominated for The Stranger Genius Award. In and around Seattle, Charles has also worked at Intiman Theatre (where he just finished playing Arnold Connor in Taylor Mac's Hir), Seattle Children's Theatre, Book-It Repertory Theatre, Village Theatre, 5th Avenue Theatre, and many smaller companies. His voice work includes over 15 audio books (mostly for Seattle's Cedar House Audio) and several gratuitously violent video games. His poetry has appeared in over four dozen publications nationwide and abroad, and has twice been nominated for the Pushcart Prize.






Chris Murray
Charles Lomax/Bill Walker
Chris is happy to be back at The Armory. Previous credits at The Armory include 11 years at JAW: A Playwrights Festival, Astoria: Part One and Two, The Oregon Trail, Great Expectations, Our Town, Futura and Sometimes a Great Notion. Regionally, Chris has worked on readings, workshops and premieres of new plays at several theaters, including The New Play Summit at Denver Center for the Performing Arts and the 38th Annual Humana Festival at Actors Theatre of Louisville. Locally, Chris has performed at Artists Repertory Theatre, CoHo Productions, Profile Theatre, Third Rail Repertory Theatre and more. It is an honor and a privilege to create art in the greatest city in the world.






Hanley Smith
Barbara Undershaft
Hanley could not be more thrilled to be making her debut at The Armory in this cheeky, challenging piece with these incredible people! Favorite credits include: Vanda in Venus in Fur and Fantine in Les Misèrables (The Fulton); Laura in The Glass Menagerie (Pioneer Theatre Company); Cecily in The Importance of Being Earnest (Gulfshore Playhouse); The Girl (Luisa) in The Fantasticks (Virginia Stage); and Sally in The Voice of the Turtle (Merrimack Repertory Theatre), where she met her beloved husband. Coming up this summer: Amalia Balash in She Loves Me and Annabella/Pamela/Margaret in The 39 Steps. Hanley is also a proud member of the folk trio, A Band Called Honalee; she serves as the educational programs coordinator for R.Evolución Latina; and, despite her Georgia roots, she is a massive New York Rangers hockey fan. Warm thanks to Chris, Harriet, WTG, my family, and my William. @backstagehanley hanleysmith.com



Brian Weaver
Adolphus Cusins
Brian feels tickled and blessed to work with Chris before he leaves for Denver, and to act with Nikki – something they've only done once in 10 years of marriage. Credits include: Romeo in Romeo and Juliet and Denby in Ice Glen (Shakespeare & Company), Scapin and Titus Andronicus (Intiman Theatre Company), American Buffalo (Third Rail Repertory Theatre), Where Has Tommy Flowers Gone (Berkshire Theatre Festival) and Joe in Angels in America (New World Players). Brian co-founded Portland Playhouse with Nikki and his brother Michael, and has directed productions of Scarlet; Peter and the Starcatcher; Mr. Burns, a Post-Electric Play; Radio Golf; Gem of the Ocean; Bloody Bloody Andrew Jackson; Dying City; and The Light in the Piazza. He serves on the board of Outside In and is a member of the Oregon Arts Leaders for Inclusion Coalition. Brian dedicates this performance, which he views as a shameless defense of capitalism, to his grandfather, who bought him "Capitalism for Kids" at age four.


Nikki Weaver
Sarah Undershaft/Jenny Hill
Nikki has worked at various theater companies along the East Coast including: Shakespeare & Company, Centastage, Theatreworks and 11:11

TheatreCompany

. These days she can be found initiating ideas at Portland Playhouse as education director, or running after her two young girls. Local credits include: Head, Hands, Feet and A Doll's House at Shaking the Tree Theatre; Reasons to be Pretty and Animals & Plants; at CoHo Productions; Anna Karenina for JAW (2011) at The

Armory

; Weaving Women Together, You For Me For You, Telethon, bobrauschenbergamerica, After Ashley, Mauritius, Mother Teresa is Dead, The Other Place and Angels in America at Portland Playhouse. She continues to coach both students and professional actors looking to enhance their careers through presence, heart, and connection. She holds a B.F.A. in performing arts from the Australian Academy of Dramatic Arts and an M.F.A. from The George Washington University in classical theater. Proud member of Actors Equity Association.



Joshua J. Weinstein
Stephen Undershaft/Snobby Price
Joshua is enthused to appear at The Armory for the first time. Resident artist credits at Artists Repertory Theatre: Magellanica, We Are Proud to Present …, The Miracle Worker, 4000 Miles, Tribes, Foxfinder and Red Herring. Other Portland credits: Tender Napalm (Dancing Brain Productions), A Christmas Carol (Portland Playhouse), The Nether (Third Rail Repertory Theatre), Masque of the Red Death (Shaking the Tree Theatre), The Tempest (Portland Shakespeare Project) and Body Awareness (CoHo Productions). Around town, Josh has directed students from Trillium Charter, King and Da Vinci Middle School as part of the Portland Playhouse's Fall Festival of Shakespeare. Other youth theater teaching and directing includes Oregon Children's Theatre and Exploration Summer Programs at Wellesley College in Massachusetts.He holds a B.F.A. from Florida State University. Many thanks to the cast and creative team. And Brandy. Always.

ABOUT THE CREATIVE TEAM
George Bernard Shaw
Playwright
George Bernard Shaw (1856-1950), the acclaimed dramatist, critic and social reformer, was born in Dublin where he grew up in an atmosphere of genteel poverty. He attended four schools and was tutored by a clerical uncle, but left his formal schooling behind him at the age of 15. Shaw declared himself a socialist in 1882 and joined the Fabian Society in 1884; soon he distinguished himself as a fluent and effective public speaker and an incisive and irreverent critic of music, art and drama. Shaw's first play, Widowers' Houses, was produced privately in 1892 and was followed by The Philanderer and Mrs. Warren's Profession. More palatable, though still rich with challenges to conventional middle-class values, were his Plays Pleasant (1898) which included Arms and the Man, Candida, The Man of Destiny and You Never Can Tell. In 1897 Shaw attained his first commercial success with the American premiere of The Devil's Disciple, which enabled him to quit his job as a drama critic and to make his living solely as a playwright. Among his plays presented at the Royal Court Theatre were the premieres of John Bull's Other Island (1904), Man and Superman (1905), Major Barbara (1905) and The Doctor's Dilemma (1906). Pygmalion, by far his most popular work, was first performed in 1913. During World War I, Shaw's anti-war pamphlets and speeches made him very unpopular as a public figure. In Heartbreak House (1920), he exposed the spiritual bankruptcy of the generation responsible for the carnage. Next came Back to Methuselah (1922) and Saint Joan (1923), acclaim for which led to his receiving the Nobel Prize for Literature for 1926. Shaw continued to write plays and essays until his death in 1950 at the age of 94.


Chris Coleman
Director
Chris joined Portland Center Stage at The Armory as artistic director in 2000. Before coming to Portland, Chris was the artistic director at Actor's Express in Atlanta, a company he co-founded in the basement of an old church in 1988. Chris returned to Atlanta in 2015 to direct the world premiere of Edward Foote at Alliance Theatre (Suzi Bass Award for Best Direction, Best Production and Best World Premiere). Other recent directing credits include the Off-Broadway debut of Threesome at 59E59 Theaters; a production that had its world premiere at The Armory. Favorite directing assignments for The Armory include Fun Home, Constellations, Astoria: Part One and Two (which he also adapted), A Streetcar Named Desire, Ain't Misbehavin', Three Days of Rain, Threesome, Fiddler on the Roof, Clybourne Park, Shakespeare's Amazing Cymbeline (which he also adapted), Anna Karenina, Oklahoma!, Snow Falling on Cedars, Crazy Enough, King Lear, Outrage and The Devils. Chris has directed at theaters across the country, including Actors Theater of Louisville, Oregon Shakespeare Festival, ACT Theatre (Seattle), The Alliance, Dallas Theatre Center, Pittsburgh Public Theatre, New York Theatre Workshop and Center Stage (Baltimore). A native Atlantan, Chris holds a B.F.A. from Baylor University and an M.F.A. from Carnegie Mellon. He is currently the board president for the Cultural Advocacy Coalition. Chris and his husband, Rodney Hicks — who recently appeared on Broadway in the musical Come From Away — are the proud parents of an 18-lb Jack Russell/Lab mix and a 110-lb English Blockhead Yellow Lab. For the past three years, Chris has had the honor of serving as the director for the Oregon Leadership Summit.


Daniel Ostling
Scenic Designer
Daniel's work at Portland Center Stage at The Armory includes Celebrity Row and 36 Views. Broadway credits include Metamorphoses at Circle in the Square and Clybourne Park at Walter Kerr Theatre – both received Tony Award nominations for Best Scenic Design. Recent designs include: Cleopatra and La Morte Amoureuse at K-Ballet Company in Tokyo; A Christmas Carol at McCarter Theatre; Blood Wedding (directing & scenic design) at Lookingglass Theatre; and The Odyssey and Timon of Athens at Oregon Shakespeare Festival. Regional credits include Brooklyn Academy of Music, New York Shakespeare Festival, Lincoln Center, The Public, Playwrights Horizons, A.C.T. (San Francisco), Long Wharf, Steppenwolf, La Jolla Playhouse and Goodman Theatre, among others. Opera designs include: Rusalka and La Sonnambula at Metropolitan Opera (NY); Lucia di Lammermoor at Teatro alla Scala and Metropolitan Opera (Milan/New York/Tokyo); The Merry Widow at Lyric Opera of Chicago; and Galileo Galilei (New York/London/Chicago). Ostling is a Lookingglass Theatre Company ensemble member.


Lex Liang
Costume Designer
Lex's work includes costume and scenic design for performance, and he is delighted to be making his debut at The Armory. New York/Off-Broadway: 50+ productions including 9 Circles, Shape of Metal, Made in Heaven, Secrets of a Soccer Mom and Classic Theatre of Harlem's new production of Antigone. Regional: Alliance Theatre, Asolo Repertory Theatre, Cincinnati Playhouse in the Park, Cleveland Play House, Denver Center for the Performing Arts, Florida Studio Theatre, La Jolla Playhouse, Long Wharf Theatre, Paper Mill Playhouse, Portland Stage Company, Syracuse Stage, Tantrum Theater, Theatreworks, and others. He is the principal/founder of LDC Design Associates, a bespoke event and interior production company in New York. Past projects include Operation Smile: 35th Anniversary Gala, New York Fashion Week, Tony Awards Gala, and New York Wine and Food Festival. Member, United Scenic Artists-829. LexLiang.com


Sarah Hughey
Lighting Designer
Sarah Hughey is glad to be returning to The Armory after designing lights for A Christmas Memory/Winter Song. Design credits include Blair Thomas & Company, Steppenwolf Theatre, Lookingglass Theatre Company, City Theatre Company (Pittsburgh), Kansas City Repertory Theatre, The Black Rep (St. Louis), Writers Theatre, Northlight Theatre, Victory Gardens Theater, and many little rooms across Chicago. In the Portland area, Sarah has designed pieces at Northwest Childrens Theater, Enlightened Theatrics and the Pacific Northwest College of Art. Ms. Hughey is the recipient of a Joseph Jefferson Award and the Michael Maggio Emerging Designer Award at the Michael Merritt Awards for Design and Collaboration. She has taught lighting design at Northwestern University, Columbia College Chicago and Willamette University. She holds an M.F.A. from Northwestern University and is a member of USA Local 829. Ms. Hughey lives in Portland. skhugheylighting.com
Casi Pacilio
Sound Designer
Casi's home base is The Armory, where recent credits include Kodachrome, A Christmas Memory/Winter Song, Lauren Weedman Doesn't Live Here Anymore, Wild and Reckless, His Eye is on the Sparrow, The Oregon Trail, Little Shop of Horrors, A Streetcar Named Desire, Great Expectations; A Small Fire and Constellations with composer Jana Crenshaw; and 11 seasons of JAW. National shows: Holcombe Waller's Surfacing and Wayfinders; Left Hand of Darkness, My Mind is Like an Open Meadow (Drammy Award, 2011), Something's Got Ahold Of My Heart and PEP TALK for Hand2Mouth Theatre. Other credits include Squonk Opera's Bigsmorgasbord-WunderWerk (Broadway, PS122, national and international tours); I Am My Own Wife, I Think I Like Girls (La Jolla Playhouse); Playland, 10 Fingers and Lips Together, Teeth Apart (City Theatre, PA). Film credits include Creation of Destiny, Out of Our Time and A Powerful Thang. Imagineer/maker of the Eat Me Machine, a dessert vending machine.
Mary McDonald-Lewis
Dialect Coach
Mary McDonald-Lewis has been a professional artist since 1979. She resides in Portland, Oregon, and is an international dialect coach for film, television and stage. She also works as a voice actor, on-camera actor, stage actor and director. Major Barbara is MaryMac's 31st show with this company. You can also hear her work at Artists Repertory Theatre, where she is the resident dialect coach, and on other stages around town. She is deeply grateful to the patrons and audience members of The Armory, whose support allows the theater to provide her services to the actors. MaryMac holds her M.F.A. in directing from the University of Portland. She loves what she does, and she thanks Sullivan and Flynn for always wagging their tails when she comes home. marymac.com
John Armour
Fight Director
John is an actor and fight director who has been choreographing violence for more than 25 years. He is based in Portland, where he choreographs for many local theater companies and teaches throughout the region at colleges, high schools and middle schools. John's work has been seen regularly on stage at The Armory, Portland Opera, Artists Repertory Theatre, Oregon Children's Theatre, Miracle Theatre and many others. John's work has twice been recognized within the Portland theater community for Best Fight Design.
Barbara Hort, Ph.D.
Consulting Dramaturg
Barbara Hort, Ph.D., has maintained a private practice in Portland for over 25 years, working primarily from the psychological perspective developed by the Swiss psychoanalyst Carl Jung. At the invitation of Chris Coleman, Dr. Hort has served as a dramaturg on The Armory productions of Sweeney Todd, Clybourne Park, the 2013 JAW festival, Fiddler on the Roof, Othello, Dreamgirls, Threesome, Three Days of Rain, Ain't Misbehavin', A Streetcar Named Desire, Astoria: Part One and Two, Constellations and Fun Home providing material on the psychological dynamics of the play that can be used by the artists who are creating the production.

Kristen Mun
Stage Manager
Kristen is originally from Hawaii and holds a B.F.A. from Southern Oregon University. She is excited to return for her fifth season at The Armory. Previous credits at The Armory include production assistant on Fiddler on the Roof, LIZZIE, Threesome, Three Days of Rain, Forever, Each and Every Thing, A Streetcar Named Desire, Hold These Truths and His Eye is on the Sparrow; stage manager for Constellations; and assistant stage manager for Fun Home and Astoria: Part Two. Outside of Portland, she has worked at Actors Repertory Theater of Idaho, Actors Theatre of Louisville and Oregon Shakespeare Festival. Kristen is forever grateful to Adam and her family for their love and support.
Jordan Affeldt
Production Assistant
Jordan is a stage manager from the small mountain town of Julian, CA. This is her first season at The Armory as a stage management apprentice, where credits include Fun Home, A Christmas Memory/Winter Song, Kodachrome, Major Barbara and Lady Day at Emerson's Bar and Grill. Prior to coming to The Armory, she completed internships at Pacific Conservatory Theatre (assistant stage manager for Beauty and the Beast, Lend Me a Tenor, You Can't Take it With You), Shakespeare Theatre of New Jersey (assistant stage manager for Coriolanus), and ion theatre company (production assistant for Sea of Souls). She received her undergraduate degree from Northern Arizona University, majoring in theater studies and psychology. She spends her free time playing and writing music in the Portland area.
Portland Center Stage is committed to identifying & interrupting instances of racism & all forms of oppression, through the principles of inclusion, diversity, equity, & accessibility (IDEA).