Playwriting Class with "Kodachrome" Playwright Adam Szymkowicz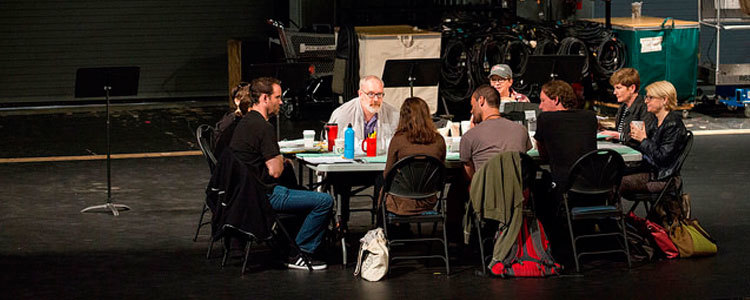 Tapping Into The Subconscious Using Borrowed Text
Get out of your head and tap into what's simmering under the surface using found or overheard conversation. Adam Szymkowicz believes playwrights select material from the world around them and from the tides within them. Bring to class a brief conversation you've overheard and Szymkowicz will show you how to generate characters, scenes and drama using conversation.
February 10

2:00 - 4:00 p.m.
$25
About Adam Szymkowicz
| | |
| --- | --- |
| | Adam Szymkowicz's plays published full-length plays include Food For Fish, Hearts Like Fists, Incendiary, Clown Bar, The Why Overhead, Deflowering Waldo, Pretty Theft, Adventures of Super Margaret, 7 Ways To Say I Love You, Rare Birds, Marian, or The True Tale of Robin Hood and Nerve. Adam was a featured playwright at The Armory's JAW: A Playwrights Festival, served twice as playwright in residence at the William Inge Center, and took part in The Dramatists Guild Fund's Traveling Masters program. He has been commissioned by South Coast Repertory, Rising Phoenix Repertory, Texas State University, The NOLA Project, Single Carrot Theatre and Flux Theatre Ensemble. He received a Playwright's Diploma from The Juilliard School's Lila Acheson Wallace American Playwrights Program and an M.F.A. from Columbia University, where he was a Dean's Fellow. He is a two-time Lecomte du Nouy Prize winner, a member of the Dramatists Guild and Writer's Guild of America, and was a member of Primary Stages' Dorothy Strelsin New American Writers Group, the MCC Theater Playwrights' Coalition, and the first Ars Nova Play Group. He has interviewed 1,000 playwrights on his blog. He is currently the literary manager at The Juilliard School. adamszymkowicz.com |
FAQs
What to Bring
Class participants will receive a welcome/introductory email the Wednesday before their class providing specific details of what to bring to class. Class participants are always welcome to bring bottled water, and coffee or other beverages with a lid are also permitted. Please ensure cell phones and other noise-making devises are placed on "Silent Mode" or Off during class hours. There is no need to bring a printed copy of your ticket.
Refunds and Exchange Policy
The Armory does not offer refunds on purchased class registrations; all sales are final. Class exchanges can be made within 24 hour notice prior to the first class meeting. In rare circumstances when a class may be cancelled (due to extreme weather, artist absence or other unavoidable situations) we will offer refunds or replacement registration for a future class.
Click here to Learn more about our weather policy.
Arts for All
The Armory is proud to participate in Portland's Arts for All program. This means those Oregonians receiving SNAP benefits or with an Oregon Trail Card can receive discounted tickets to Community Events and Classes, available in person at the Box Office. Please have your Oregon Trail Card with you at time of purchase.
Getting Here
The Armory is located at 128 NW Eleventh Avenue in the Pearl District of Portland, Oregon. We're exactly one block north of Powell's Books, between Couch and Davis.
Bus: The Armory is located in the heart of the Pearl District on NW Eleventh Avenue and Davis Street, just a short walk from most bus lines.
MAX: From the eastbound train, get off at the 9th Avenue/Library stop. From the westbound train, get off at the Tenth Avenue/SW Morrison Street stop. Walk to Tenth Avenue and turn right, follow Tenth Avenue to Davis (approx. 6 blocks) and turn right to corner of Eleventh Avenue or Walk to corner of Tenth and Yamhill and board the Portland Streetcar, get off at Couch Street stop and walk to corner of Eleventh Avenue and Davis Street.
Streetcar: The Armory is also conveniently located directly on the streetcar line. The Portland Streetcar runs on Tenth Avenue (to NW 23rd) and on Eleventh Avenue (to Portland State University) and stops on the corner of NW Couch Street respectively. The entrance to The Armory is on the corner of NW Eleventh and Davis (one block north of Couch).
For complete transit directions from your location use the trip planner at www.trimet.org.
Accessibility
The Armory is committed to making our facilities accessible to all of our patrons. For specific program questions and ticket information, or if you need assistance, please contact the Education Department at 503-445-3795 or email us at education@pcs.org.
Parking
The Pearl features 2-hour metered on-street parking around The Armory, from 8 a.m. - 7 p.m. Monday-Saturday and 1 p.m. - 7 p.m. on Sunday.
For a parking garage, we recommend The Brewery Blocks/Whole Foods Underground Parking Garage. It is the largest lot in Portland and it is located one block from The Armory. It's a well-lit, security-patrolled underground garage that houses 1,300 parking spaces. There are two entrances to this lot: NW Twelfth Avenue or NW Thirteenth Avenue, between Couch and Davis Streets. The elevators take you into the M Financial Building lobby (just around the corner from the Armory) or into Whole Foods on the corner of Couch and NW Twelfth Avenue.
Other questions?
If you have any additional concerns or questions, please contact the Education Department at 503-445-3795 or email us at education@pcs.org.
Portland Center Stage is committed to identifying & interrupting instances of racism & all forms of oppression, through the principles of inclusion, diversity, equity, & accessibility (IDEA).