NEA Grant for JAW: A Playwrights Festival 2018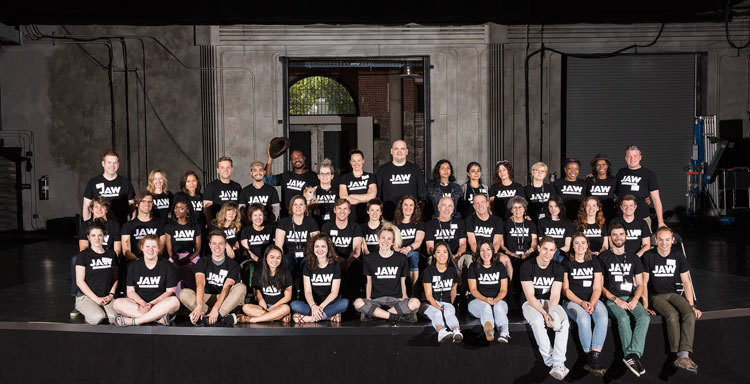 Portland Center Stage at The Armory has been selected to receive a $15,000 Art Works grant from the National Endowment for the Arts, one of $25 million in grants approved by NEA Chairman Jane Chu for fiscal year 2018, to use towards this year's JAW: A Playwrights Festival.
The Art Works category is the NEA's largest funding category and supports projects that focus on the creation of art that meets the highest standards of excellence, public engagement with diverse and excellent art, lifelong learning in the arts, and/or the strengthening of communities through the arts.
"It is energizing to see the impact that the arts are making throughout the United States. These NEA-supported projects, such as this one to Portland Center Stage at The Armory, are good examples of how the arts build stronger and more vibrant communities, improve well-being, prepare our children to succeed, and increase the quality of our lives," said NEA Chairman Jane Chu. "At the National Endowment for the Arts, we believe that all people should have access to the joy, opportunities and connections the arts bring."
In 2018, JAW: A Playwrights Festival will proudly present its 20th year of championing new plays and bringing invigorating theater to Portland. For two decades now, each summer has confirmed for us the vitality of this ever-changing, crazy fun, wild world of theater when JAW (short for Just Add Water) takes over The Armory. The festival welcomes a handful of playwrights, whose scripts are chosen from nearly 200 annual submissions, to spend two weeks collaborating with directors, dramaturgs, actors, and other theater professionals from across the nation. During these workshops, JAW playwrights get to hear, revise and sometimes completely rewrite their plays in a supportive environment where their creative needs set the agenda.
The festival culminates in a vibrant outpouring of artistic energy, as staged readings of the JAW plays are presented to the public. Adding to the festivities are unique performance pieces from local artists of all disciplines. And the whole thing kicks off with an evening of work by the Promising Playwrights, high school students selected from our Visions & Voices program, who write and develop their own short plays alongside the professionals. Thousands of audience members join us annually to celebrate theatrical innovation and the enduring power of storytelling.
And on that note ... save the date! JAW 2018's "Big Weekend" of staged readings and other events will occur July 27-29, 2018. JAW is free and open to the public, as always. For more information on JAW, please visit pcs.org/JAW and check back in early summer for this year's JAW schedule of events.
For more information on projects included in the NEA grant announcement, visit arts.gov/news.
P.S. Kodachrome, currently premiering in the Ellyn Bye Studio, was workshopped at JAW in 2015.
Portland Center Stage is committed to identifying & interrupting instances of racism & all forms of oppression, through the principles of inclusion, diversity, equity, & accessibility (IDEA).